Oakland D-III club hockey's winning tradition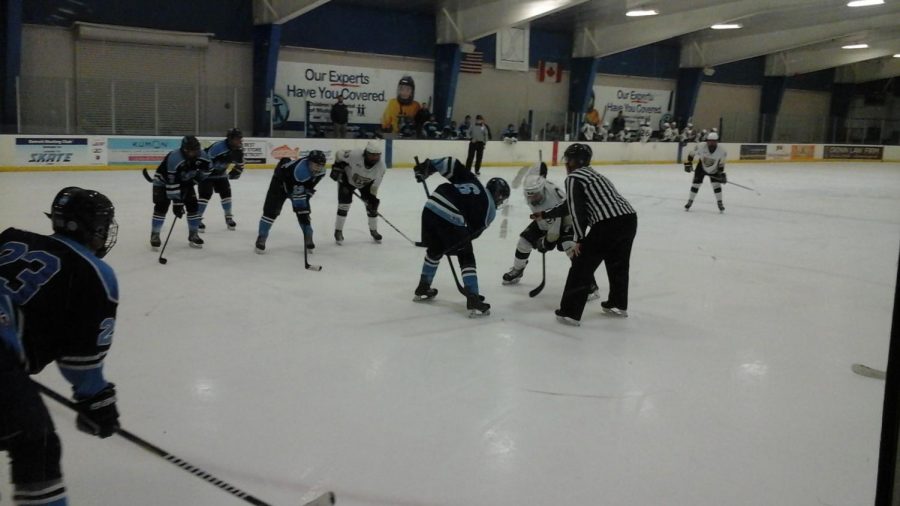 Ben Gagnon, Contributor
December 18, 2017
When the Oakland University Division-III men's club hockey team takes the ice, one burning desire fuels them: recapturing the league championship.
As members of the American Collegiate Hockey Association since 2008, Oakland has established a winning tradition that culminated with its first national title victory in the 2015/2016 season.
The Golden Grizzlies posted a dominant 36-1-2 record that year, winning the conference tournament and routing through the ACHA D-III Nationals.
Midway through the 2017-18 season, OU seems well-poised to make another championship run. The program currently sits atop the Michigan Collegiate Hockey Conference East standings with a record of 10-2 in conference play and 7-1 in the division.
"We know we have the group that can get to the [national] final," said Head Coach Pete Gibb. "My expectations…are to peak at the end of the year, develop as the year goes on and to be prepared for those big games when we see them."
In his second season at the helm for OU, Gibb has 14 returning players—several of whom were with the 2016 championship team. But he has many new faces on the roster, including seven freshmen. Given the team's blend of experience and youth, assistant coach Zack Warson described its personality as a work in progress.
"It's more of a quiet group than we've had before," he said. "But they're hardworking and hungry, and they understand the culture."
Warson, an alum of the OU hockey club program and longtime coach on the staff, said playing in a highly competitive conference has helped shape OU's grinding ethos.
"At D-III, it's the toughest in the nation," the 28-year-old said. "When we play our schedule of conference games, it gets us ready for a national title."
Altogether, Oakland has won or co-held its division in each of the last three seasons. It's also reached the "Frozen Four" of the MCHC tournament three years in a row.  
Among OU's conference opponents are the club teams from Michigan State University, Hope College, Adrian College and Central Michigan University.
The Golden Grizzlies also face top contenders outside the conference, including Aquinas University and the University of Central Florida. The team's current overall record stands at 12-8-1, largely because they've incurred tough losses to powerhouse non-conference opponents.
Gibb, 30, said facing a stacked schedule requires his players to give maximum effort on a nightly basis.
"What we want to be is a hard-working team that has skill," he said. "We're trying to be consistent—that's job number one."
Veteran leaders
OU's lines are anchored by battle-tested upperclassmen. This includes forwards Michael Ryan, Zac Massa, Cale Denison and James Koonce as well as defenseman Dalton Genat.
Koonce and Ryan are Oakland's current points leaders with 29 and 28 respectively. Massa leads all goal scorers with 16, Denison is fourth in total points and Genat is third in assists.
Ryan, a 6'2″, 200-pound senior, was chosen as team captain this season. He categorized himself as a playmaker who uses his size and speed to set up teammates.
"My first couple years on the team, I️ started as a fourth line grinder and worked my way up the line," he said. "[Now] my main role is trying to keep my teammates in line, keep them focused."
As a member of the championship team, Ryan said his current squad must play like an "underdog"rather than a favorite to achieve its goal.
Echoing that sentiment is Genat, a 5-foot-11, 185-pound senior from Coppell, Texas.
"When I first joined the team, we had loads of talent," he said. "But we're not that same team anymore, so we've got to be the hardest working team in the country."
To help his team score more goals, Genat said he has transitioned from being primarily a "stay-at-home defenseman" to a playmaker.
"I've kind of broken out of that shell," he said. "If I can jump up and help put up points and help us win…it'll be the best of both worlds."
Like Genat, Ryan has looked to his expand his role as a goal-scorer. Currently, the right-hander is the team's third leading scorer.
"In years past, we really relied on our top line as a scoring line," he said. "This year, I think it's become more of a team effort."
Also helping to boost the offensive production is the return of fifth-year senior Zac Massa, who missed the first eight games of the season before coming back on Nov. 3 in a match-up against Hope College.
Massa had taken time off from hockey to be with his family and help take care of his ill grandfather. Originally, he wasn't planning to play for OU this season, but the camaraderie of his teammates convinced him to return.
"It's nice to be with the guys every weekend," the Farmington native said. "It just lightens the load a little bit on school, takes your mind off things."
Massa's return has made an immediate impact. The 5'7″, 175-pound speedster recorded nine goals in his first five games, including a hat trick and four assists in his season debut.
Since his comeback, OU ranks second in power play goals and fourth in goals-per-game in the division.
However, OU's offensive improvements have also been due to a complete team effort, with six players reaching double digits in points so far.
"Our greatest strength is that we have balance," Gibb said. "Guys can be put into different situations and excel."
A hidden gem
Oakland's hockey club organization originally began as a D-II team in 1999. The program saw great success in the 2000s, claiming ACHA D-II national championships in '04 and '06.
In 2007, the club upgraded to D-I and won another national title. With so many players interested in joining the team, the D-III squad was formed in 2008 to sustain the program's growth.
While the D-I team plays at ONYX Ice Arena in Rochester, the D-III program has called the Detroit Skating Club (DSC) in West Bloomfield their home for nearly a decade.
Home ice has been a huge advantage for the D-III team. They compiled an impressive record of 18-1-1 last season and are off to a good start this year at 6-3.
"It's a smaller rink, so the crowd gets into it," Gibb said. "It's loud, it's fast-paced…it's a great place to come out and support a community event."
On most nights, the Golden Grizzlies can draw about 100 to 150 fans to DSC to cheer them on. While OU players and coaches appreciate the community support, they feel the team could benefit from more exposure.
"We're fun to watch on a nightly basis," Genat said. "Plus it helps when we've had as much success as we've had."
Getting support from the university and its student base has been difficult for the program, considering it plays off-campus and does not have National Collegiate Athletic Association status.
"[Publicity] is mainly what we do and what we put out on Twitter," Gibb said. "We're doing all we can to get the word out and let people know that there's really great hockey being played Friday nights at Detroit Skating Club."
Funding is also a major issue for the team. This year, OU had to pay $38,000 for ice time at DSC.
"These kids work very hard and pay their way," Warson said, who is also the team's general manager. "I would love for them to get as much as exposure as possible."
The D-III squad has attracted considerable talent over the years—enough to entice pro scouts from the U.S. and Europe. Warson says that several players have gotten opportunities to play pro or minor-league hockey after graduating.
OU explores NCAA hockey options
Recently, Oakland has explored the possibility of adding NCAA men's and women's hockey programs.
Director of Athletics Jeff Konya held a press conference at Little Caesar's Arena in October to announce OU's hockey expansions interests.
With its initiative to grow amateur hockey in North America, the NHL is conducting a feasibility study to determine if Oakland can support an NCAA D-I program.
Despite a promising outlook, OU has several financial obstacles to hurdle; the university must secure enough funding for scholarships and the construction of an on-campus rink.
Such a move would make Oakland the only university in the state to offer a D-I women's hockey program.
From what he's heard so far concerning the feasibility study, Warson is eager about the prospect of NCAA hockey coming to OU.
"We're in a hockey hotbed…there's going to be an interest," he said. "But it's a lot of money to run a Division-1 program and a Division-1 stadium."
While OU continues to evaluate the future of Golden Grizzly hockey, Ryan and his team look to provide a great hockey-viewing experience for fans in the present.
"We've put together one of the best programs in our league and have been very successful," he said. "I feel that we have put this program in a spot that students would really enjoy coming to games."
The Golden Grizzlies wrapped up play in 2017 with a home-and-home sweep of Lawrence Tech University. They'll resume action in 2018 by hosting the University of Michigan-Flint on Jan. 5.