OU Embraces the Halloween spirit: Pennywise would be proud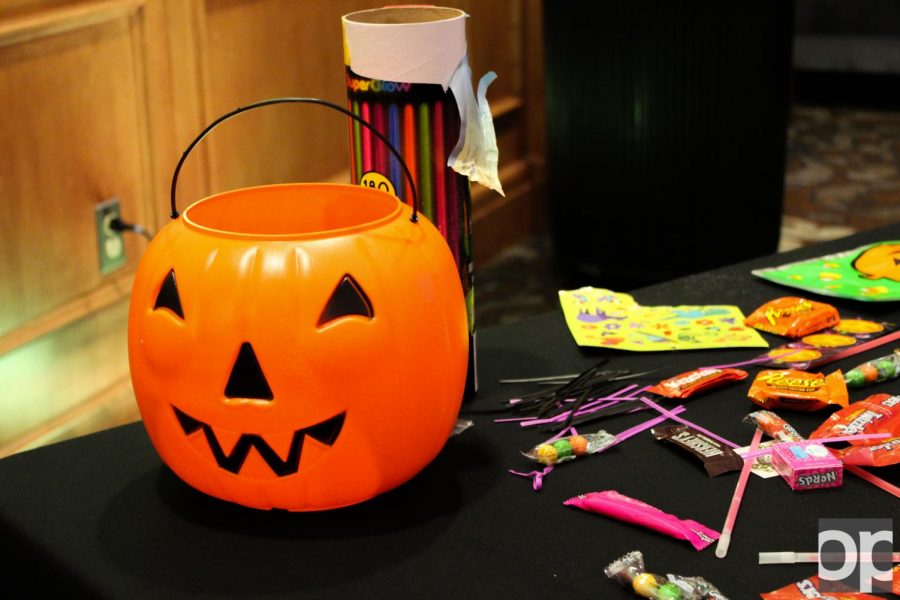 Although Halloween is traditionally geared toward children, Oakland University students have no problem embracing their inner child for the holiday.
According to Jean Ann Miller, director of the Center for Student Activities (CSA), it's common for students to even attend class in costumes.
Several on-campus celebrations were held last week. The festivities will continue into this week with Día de los Muertos, or Day of the Dead, a popular holiday in the Spanish-speaking world, on Nov. 2 in the Oakland Center. In addition to the opportunity for cultural immersion, the celebration will include crafts, food and Aztec dancers.
Last week's events, however, were much more Americanized and focused specifically on traditional Halloween celebrations.
On Friday, Oct. 27, the CSA held its "Hallo-Friday" costume party. The event served as the fall semester International Night for international students on campus. During the party, there were a variety of traditional Halloween foods and beverages including candy, cider, donuts and even a popcorn bar. There was also a costume contest during which participants had the opportunity to win a shopping spree to the OU Bookstore.
However, Miller said the most important aspect was the immersive experience for international students at the family-oriented event.
"We want the international students to enjoy an American holiday because Halloween's become one of the biggest, outside of maybe Christmas," she said. "It's part of American culture. There's not a religious connotation to it, even though that was the origin of it. It's very secular in terms of how it is celebrated, which is good, because I know some people have some concerns related to the origins of it."
The event was directly followed by an "IT"-themed Zombie Walk, hosted by the Residence Hall Association (RHA). The Zombie Walk is an annual event during which volunteers will dress up in costume and scare students on a trail in the woods near Meadow Brook Hall.
This year, the tenaciously inconvenient Michigan weather prevented the Zombie Walk from being held outside due to rain conditions, forcing the RHA to relocate the event into East Vandenberg Hall. According to Kristine Allor, president of the RHA, the event involved 46 student volunteers and was still just as spooky despite the weather—but only for students who were brave enough.
"People are guided on a tour, and with those guides, you're going to either have a red glow stick or a yellow glow stick," she said. "Red meaning you'd like to be scared, yellow meaning you don't want to be scared. So, you can still go through and see what everyone's dressed as, but nobody's going to jump out at you."
This year, in light of the Zombie Walk's theme, cleverly titled "IT's Here," clowns and ghosts were added to the list of creepy guests. Students were also greeted by characters from the film, including Georgie and the terrifying clown Pennywise himself. The theme has potentially opened the doors for different characters in the future.
"Who knows? Maybe a new Halloween character might come out within the next couple years," Allor said. "They'll probably do a 'Zombie Walk Presents…' of that."
Other Halloween-themed events geared toward residents included "Haunted Halls," a pumpkin decorating contest and a movie screening in the Vandenberg glass rooms on Halloween night.
Don't get too scared, we don't all float down here at Oakland.