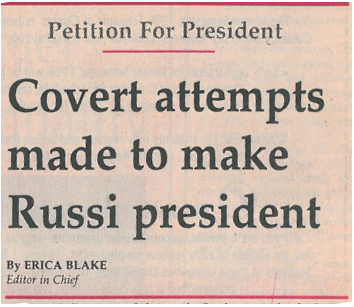 Looking Back: The president found without a search
The Post takes a look into the hiring of Gary Russi
In 1993, Gary Russi came to Oakland University as the vice president for Academic Affairs following a national search. After University President Sandra Packard's resignation in 1995, he was voted in by the Board of Trustees as the interim president of OU.
Packard left the university following a 31-month tenure and three one-year contracts. She ended the final contract part-way through.
In the fall of 1994, one board member said Russi had approached the trustees to "discuss concerns about Packard's leadership."
In the beginning of October 1995, an associate vice president of Student Affairs emailed 44 faculty members, asking them what their reactions would be if a petition was started to make Gary Russi the president of OU following Packard's departure.
The response was mixed.  
Faculty responded, some with criticism of Russi's abilities, but said they needed a formal search for the next president's selection.
"I believe that Gary Russi is doing a good job and the Board of Trustees should appoint him without delay," said the associate vice president in an email dated Oct. 2, 1995. "I am planning to start a petition addressed to the Board of Trustees asking them to name Russi president."
But why was a formal search so important to the faculty?
"It's been a custom around this university to fill high positions by conducting a high-profile search," Physics Professor Norman Tepley said. "I think that the reaction . . . will be that if we don't follow that custom we will be compromising and that we will be having someone shoved down our throats."
On May 22, 1995, the presidential search was terminated after Oakland County Circuit Court Judge Gene Schnelz ruled that the Board of Trustees at OU violated the Open Meetings Act during their search.
Reporters were asked to leave at the closed meeting in question, . It was after this meeting that Russi took his post as interim president.  
The emails that had been sent to faculty implied that the board already wanted Russi to become the permanent president of the university.
"It's sad that the 'open search process' is such a farce at Oakland," Chemistry Professor Michael Sevilla said. "But it is a reality and one we should think about before we endorse it again."
The associate vice president said that around 25 of the 44 contacted faculty responded to his question.
"I proposed the open-ended question, 'Are we willing to do something about the current situation, something that we might not normally be willing to do?'" he said. "It was simply a conversation, but I don't plan on taking any action."
However, an anonymous source "close to the board" said that the likelihood of Russi being named president before the holidays was a "very real" possibility in the Oct. 18, 1995, issue of The Oakland Post.
In April 1996, Russi was offered the presidential seat.
"Either the board made this decision without any thought preparation or process, or they knowingly violated the court order and met either as a group or informally in secret to make this decision," said Shea Howell, communication professor and member of the aborted search committee. "So either they are irresponsible or knowingly criminal."
There was no search or consultation of the faculty or other members of the campus community. Some faculty members pushed for an open meeting of "the faculty as a whole" to vote on whether or not Russi should actually become the president.
However, one argument that the OU chapter of the American Association of University Professors' President Renate Gerulaitis made was that Russi had originally come to OU as a result of a national search.
"The Board did not consult with administrators or faculty for any serious input," Gerulaitis continued. "I think it sets very bad precedence. The board really doesn't understand how a university works. (A national search) distinguishes a good university from a bad one, and Oakland University doesn't need the bad publicity."
Russi was officially appointed during a vote at the June 6, 1996, Board of Trustees meeting.
However, the bad publicity struck again in June 2013. Beckie Francis, Russi's wife and also the head coach of OU's women's basketball team, was fired from the university following allegations of mistreatment of her players. Russi quickly resigned following her termination.
Following his resignation, he received a quarter of a million dollars in deferred compensation.