Chartwells unveils Smokey Paws food truck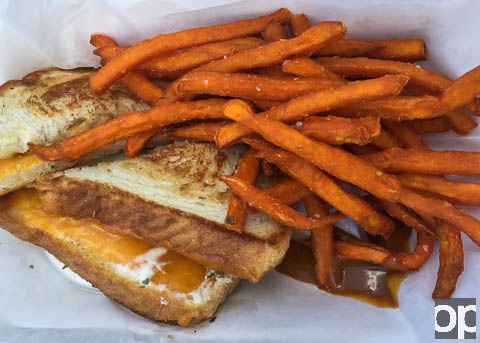 This year, Oakland University unveiled a new option for students looking to get a bite to eat on campus. Smokey Paws, a new barbecue concept, is driving around campus now.
The truck serves food like grilled cheese sandwiches, pulled pork sandwiches, sweet potato fries and even a dessert option of beignets.
Mark McCormic, resident district manager of Chartwells, said that there are multiple ways for students to dine using the new food truck.
He said, to cut down on calories, skip the bread on the pulled pork sandwich.
"That will reduce the calories and carbs considerably," he said. "I actually prefer my pulled pork without the bun, it gets in the way for me."
He recommended that health-conscious students stay away from the grilled cheese, sweet potato fries and beignets, and recommends they try looking for limited-time offers the food truck will have throughout the semester, like coleslaw, baked beans and even wraps.
However, students may remember the food truck faced a delayed launch last fall. McCormic said the delay was thanks to the manufacturer delivering the vehicle late. When it arrived, it had significant engine problems.
Since spring, the engine troubles have been fixed, and the truck was tested around campus in a test opening this summer.
The truck will be open for the fall, but will not be running in the winter.
"Parking and driving around campus is difficult with a large vehicle that size," McCormic said. "There are also problems with water lines freezing on cold days, and we don't have a heated space to keep the truck."
The truck will be found switching between three different locations on campus: P1 near the traffic circle, on the southeast side of O'Dowd Hall, and in P1 in front of the Human Health Building.
McCormic said there will be a regular rotation after the first two weeks of the fall semester.
To find where the truck is at a given time, check Chartwells' social media accounts on Instagram, Snapchat and Facebook.