A night of legacy and courage: the second annual Black and Gold Awards
Nowshin Chowdhury
April 20, 2016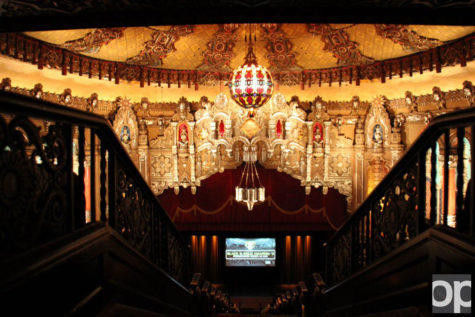 Gathering outside the Fox Theatre in Detroit, Oakland student-athletes were dressed in formal attire and surrounded by familiar faces for the second annual Black and Gold Awards.
Oakland University Athletics hosted the awards combined with the Lepley Hall of Honor induction on Monday, April 18 for a night filled with laughter and reflection. Fans, family and friends were all invited to attend.
"This year we added the Hall of Honor induction to the awards show," Scott MacDonald, senior assistant AD for public relations said. "We believe we are the only school in the country that combines their student-athlete celebration with hall of fame induction."
Steve Clark, Brittni Hutton, Brian Stuard and the 1989-90 women's basketball team were recognized on stage as one of the most decorated Hall of Honor classes at Oakland. Clark is goalkeeper for Columbus Crew SC, a Major League Soccer team; Hutton runs professionally and Stuard plays on the PGA Tour.
MacDonald serves on the Black and Gold Awards committee along with Jeff Konya, Padraic McMeel, Jenny Swiatowy, Holly Kerstner, Dan Gliot, Neal Ruhl, Taylor Blakely and Drew Dennison to ensure the show is a success. They are responsible for handling the voting and selecting the winners throughout the year.
There were almost twice as many awards compared to last year, as 21 individuals and six teams received 28 BGAs. Athletics also celebrated the organization's best GPA at 3.24 overall this year. 14 out of 16 teams achieved at least a 3.0, and four teams produced a 3.48 or higher after fall semester.
The show lasted longer this year than last, but that is expected to improve next year.
"I'd like to thank everyone on the BGA committee, along with interns Leanne Schnurer and Daniel Cobb for working extremely hard on making this a first-class event for our student-athletes," MacDonald said. "So many staff put in long hours to make sure this celebration was a big success."
Leaving a legacy
For the seniors, it was their final opportunity to be recognized for their work on and off the field.
Men's basketball team's former point guard Kay Felder won Top Individual Performance (Male) and Athlete of the Year. He said he plans to come back next year to visit.
"This is an amazing ceremony and I like dressing up," Felder said after winning his third and final BGA at Oakland. "This year it's funnier and just got better."
Also winning two individual awards that night was another men's basketball player, Max Hooper, who won Most Inspirational and Top Individual Academic (Male).
"I've worked extremely hard, sacrificed a lot … To be recognized is a good feeling," Hooper said. "Even though I was at Oakland for just two years, I think I've left a lasting impact."
Hooper was named Horizon League Sixth Man of the Year and became the first-ever player in NCAA history to not attempt a 2-pointer while taking at least 100 3-point shots.
Cultivating courage
Earlier this fall, sophomore swimmer Ayrton Kasemets announced to his teammates he was gay. To his surprise, they were all very supportive of him. He said former teammates Colby Haan and Jake Quinnan were the ones who encouraged him to be open about it.
"They actually came to me at one of the first group gatherings that we had because they had a hunch," Kasemets said. "They asked me what would be the most comfortable way to do it. They were the courageous ones."
Kasemets won the Courage Award, one of the new categories this year.
Prestigious performances
The President's Awards were given out toward the end of the ceremony to the student-athletes that had the best combination of athletic success, academic accomplishment and leadership characteristics.
Volleyball player Melissa Deatsch, women's basketball player Elena Popkey and men's basketball player Jalen Hayes received the President's Award, their first BGAs.
"This is really cool to be honored for an award that acknowledges everything that you do as a student-athlete," Deatsch said.
Deatsch earned All-Horizon League and Academic All-League honors this past season. She is tied with teammate Ciara Schultz for the career record in service aces.
Senior Popkey received her first and last individual award. She matched the all-time school record in assists and is nominated for the Matilda Wilson Award, Oakland University's highest honor.
"It's an honor to get any of the awards tonight," Popkey said. "So to win the President's Award was a great honor."
Following up on a strong freshman season, sophomore Jalen Hayes earned all-league honors after leading the conference in rebounds. He posted double-figures in 26 of 35 games and 10 of his double-doubles came in league play.
Hayes said he was surprised but excited when his name was called to come up to the stage.
"I didn't know I was nominated for it. I was nervous. It was a long walk," Hayes said. "[The BGAs] is amazing. I was here last year and it was really good, and they even topped it this year. I'm expecting it to get better and better every year."
Full list of winners:
Women's Community Service- Women's Basketball
Men's Community Service- Baseball
Top Academic Team- Women's Tennis
Most Inspirational- Max Hooper, Men's Basketball
Social Media Post of the Year- Kiah Behrendt, Cheer
Best Competition of the Year- Women's Soccer Golden Goal vs WSU in HL title game
Most Improved Athlete (Male) – Bryce Stroede, Men's Cross Country and Track
Most Improved Athlete (Female) – Olivia Nash, Women's Basketball
Top Newcomer (Female) – Rachel Levy, Women's Cross Country and Track
Top Newcomer (Male) – Devon Nowicki, Men's Swimming
Top Individual Performance (Male) – Kay Felder, Men's Basketball
Top Individual Performance (Female) – Miranda Haas, Women's Cross Country and Track
Courage Award- Ayrton Kasemets, Men's Swimming
Top Individual Academic (Female) – Amanda Baker, Volleyball
Top Individual Academic (Male) – Max Hooper, Men's Basketball
Black and Gold Spirit Award (Male) – Gino Vitella, Men's Track
Black and Gold Spirit Award (Female) – Joanie Seija, Women's Soccer
Top Play of the Year- Sarah Hartley, Softball
Future Leader Award (Female) – Jordan Sargent, Women's Soccer
Future Leader Award (Male) – Ian Yetsko, Baseball
Best Film- Men's Track and Field
Hollie L. Lepley Award (Male) – Evan Bowser, Men's Golf
Hollie L. Lepley Award (Female) – Nikki Flynn, Women's Swimming
President's Award (Female) – Melissa Deatsch, Volleyball and Elena Popkey, Women's Basketball
President's Award (Male) – Jalen Hayes, Men's Basketball
Athlete of the Year (Male) – Kay Felder, Men's Basketball
Athlete of the Year (Female) – Patricia Aschan, Women's Swimming
#Ourstory- Women's Indoor Track and Field
***Melissa Deatsch is a reporter and regular columnist for The Oakland Post.***