Final SHS dean prospective presents, Dr. Kevin Ball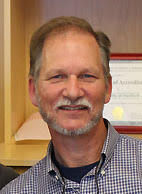 In the final installment of the series of open interviews for the new dean for the SHS, members of the Oakland University faculty, staff and administration welcomed Dr. Kevin Ball.
This final interview was held in Lake Superior A on May 3.
Meet Kevin Ball, Ph.D.
Ball currently holds a position as associate professor of rehabilitation sciences at Hartford University and is known as the founding director of the Human Performance Research (HPR) lab, a facility that provides measurement and analysis of force, motion, energy and muscle activation for functional activities such as balance and gait.
He completed all of his academic training at the University of Toronto, earning a bachelor's degree in Physical and Health Education in 1985, a master's degree in Exercise Sciences in 1988 and a Ph.D. in Community Health in 1998.
Ball served as the biomechanics instructor and laboratory director in the School of Physical and Health Education at the University of Toronto from 1992 to 1997.
From here, he became an associate dean of the Hartford University School of Education, Nursing and Health Professions in 2010.
Ball focused his presentation around a three-part plan to transform OU's SHS. This included a central model, essential elements for various programs and departments, and an outline for an "Oakland HELPS" service, a pilot program for an institute for Health Education Leadership in Practice and Service in the university community.
He opened with a demonstration of his Community Engagement in Translational Relationships (CETR) model, which was published by the American Educational Research Association.
The model is focused on demonstrating the contrasts between theory and practice, which Ball said ultimately shows their powerful connection.
"As medical providers, or in any situation, it's crucial to question theory before putting it into practice, yet also question practice against each theory. It's a self-check system," Ball said. 
He expressed his thoughts about the SHS and their success in building a strong base of individuals who can work in biomedical, applied and clinical sciences.
He spoke on using the CETR model in his vision for the SHS to create a "bench to bedside and back" mentality, bringing theory into practice and vice versa.
When speaking about the programs and departments, Ball presented a list of principles including pride, performance and pursuit that should be integrated within each academic program in the SHS.
He elaborated on each principle, as each would be used throughout the programs to create centers for leadership, health education and health within the institute.
Ball spoke on his wish to bring the passions and expertise of faculty and staff together to build an institute that will broaden the program's potential within and outside of the university community.
If selected, Ball looks to use Oakland HELPS as a pilot program that will build partnerships with other campus and community programs, and eventually be connected throughout the university community as a resource for all.
For any questions or other inquiries related to Dr. Ball's presentation, you may contact Dr. Ball at [email protected]. An announcement regarding new leadership will be made soon. For updates, check https://wwwp.oakland.edu/shs/ .