Track finishes third at Horizon Leagues, some bound for NCAA Prelims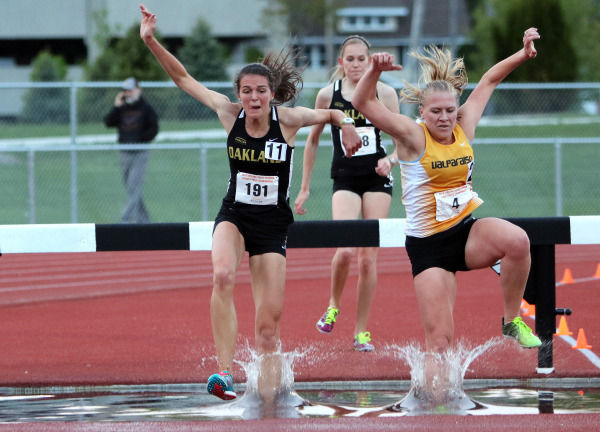 Oakland men's and women's track and field both finished third in the Horizon League Outdoor Track and Field Championship on May 6-8. The men got 165 points and the women got 156 points.
Nicholas Girodat, Andrew Bowman, Bryce Stroede and Gino Vitella competed in the NCAA East Preliminaries in Jacksonville, Florida from Thursday, May 26 through Saturday, May 28.
Horizon Leagues — Day One 
Oakland's men's team finished third with 26 points and the women's team finished second with 30 points.
Meghan Daly placed first in the javelin. She also broke her own school record with a distance of 122 ft., 7 in.
Sammy Mondry and Bryce Stroede dominated the 10,000m. Mondry won her race with 37:33.64 and Stroede won his race with 30:19.70.
Horizon Leagues — Day Two
The men's team placed fourth with 65 points and the women's team placed third with 64 points.
Andrew Bowman finished first in the men's 3000m steeplechase with 8:59.01 and George O'Connor finished second with 9:02.13. Kailey Weingartz finished first in the women's race with a time of 10:50.74 and Ashley Burr finished second with 10:51.88.
Gino Vitella set a school record in the discus with 157 ft., 7 in.
Aaron Davis broke the 200m school record with 21.34 seconds in the prelims.
Whitney Mergens set a school record in the high jump at 5 ft., 7.25 in.
Horizon Leagues — Day Three
Aaron Davis earned the Most Outstanding Performance honor. He defended his title as the 200m champion with 21.14 and also won the 100m with 10.66. He became the first Horizon League student-athlete to sweep both events since 2012.
Bryce Stroede placed first in the 5000m with 14:41.85.
Ashley Burr became the 5000m champion again with 17:43.87.
Chris Scott and Lydia Stanley won the men's and women's 800m with 1:59.63 and 2:17.08, respectively.
Hillsdale Classic
Several Golden Grizzlies had one more chance to qualify for the NCAA East Preliminaries: the Hillsdale Last Chance Classic in Hillsdale, Mich.
Davis won the 100m and 200m. He got a personal record in the 100m with 10.64 and won the 200m with 22.11.
Bowman won the 3000m steeplechase at 8.58.33, setting a school record (which was his before).
O'Connor finished second behind Bowman in the 3000m steeplechase with 9:16.46.
Scott finished 15th in the 800 meter.
Vitella finished third in the shot put.
Sterling finished third in the 400m.
NCAA East Preliminaries
They hit 80 percent. Four out of five. The most Oakland has ever sent.
Nicholas Girodat got 46th place in the 100m with 10.88. Sprints coach J.P. Behnke said his injury at the Jessie Owens Classic on April 22 partially cost him a qualifying time to get to the finals.
Andrew Bowman just missed the cut for the finals, but he broke his own 3000m steeplechase school record with 8:45.23.
Gino Vitella placed 44th in the shot put with 53 ft., 2.18 in. Vitella is the first in program history to make it to NCAA Preliminaries in the shot put in consecutive years. Last season he finished 43rd.
Bryce Stroede made his second consecutive appearance in the NCAA Prelims after placing 43rd last season in the 10,000m. This year he placed 30th in the 5000m with 14:39.01.