Changing of the guards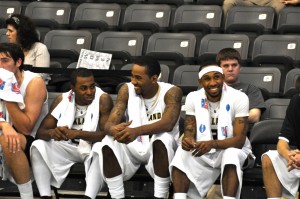 Fans got their first look at this year's edition of the Oakland University men's basketball team in a 112-55 exhibition win over Marygrove College Tuesday night. The Golden Grizzlies won't play at home again until their first Summit League game of the season, Dec. 2 against Southern Utah.
Oakland went with a three-guard lineup, starting sophomore Ledrick Eackles in place of injured forward Blake Cushingberry, who will miss the entire season. Eackles was the sparkplug off the bench for the Grizzlies last year, but will be playing extended minutes in a more primary role this season. He finished with seven points and six assists in 27 minutes of action.
"We're all interchangeable and I think a lot of guys are comfortable at different positions," Eackles said. "You've got to know all the roles out there on the court, whether you're a point guard, shooting guard, or forward, it doesn't matter because it's our job to know what our roles are on the team to make it feel natural on the court. We've got a deep bench, so me starting won't take any intensity away because we've got a lot of guys who can go all out."
Joining him in the backcourt was the expected guard combo of Reggie Hamilton and Larry Wright. Wright was the primary ball handler at point guard for the Grizzlies on offense and Hamilton picked up the other team's point guard on defense, often guarding the ball for 94 feet – something Grizzlies have not consistently done in the Division I era. As a team, Oakland got 11 steals and forced a total of 21 Marygrove turnovers.
Wright scored 16 points on 4-of-8 shooting from the field and provided seven assists in his debut as the team's point guard. Hamilton also finished with 16 points.
"I know there's still room for improvement, but I was excited to be back out there on the court," Hamilton said. "It took me a few minutes into the game and then I became more calmed down and got into it, but I'm definitely ready to go."
The team's other point guard is true freshman Ryan Bass, who is battling a minor injury and played just four minutes. Bass, however, will not be redshirted this season and head coach Greg Kampe expects him to play a major role for the Grizzlies.
"We can't redshirt Ryan Bass, he's too good," Kampe said. "He's a special talent. He's hurt a little right now but we need to get him healthy and use these (upcoming) games against good opponents to get him ready for the conference season because he's going to play an important role for us."
The fast tempo allowed the Grizzlies to steadily build their lead in the first half and Oakland led 58-29 after the first 20 minutes. Oakland, which expects to be a better 3-point shooting team this season, shot 7-for-17 from long range in the first half and finished the game 11-for-27.
Oakland big men Keith Benson and Will Hudson had a distinct size advantage of the frontcourt players from Marygrove and out-rebounded the Mustangs 54-26. Benson finished with a double-double of 15 points and 11 rebounds. Hudson led the Grizzlies in scoring with 17 points.
Contributing double-digit scoring efforts off the bench for the Grizzlies were freshmen Travis Bader and sophomore Drew Valentine. Bader scored 12 points shooting 4-for-9 from the field and Valentine made three 3-pointers and finished with 11 points.
"We've got a lot of guys who can shoot it, or maybe it's just that we've got a lot of guys who think they can shoot it, but I do think that's going to be an improved area of our team this year," Kampe said. "Last year's team was a great team, but if you had to pick out one thing that really held us back, it was our outside shooting. That was our Achilles heel last year. I think we're a better shooting team because of guys like Bader. He, along with Bass and Drew (Valentine) are going to be big for us off the bench because they can really score the basketball."
The Grizzlies first official game of the 2010-11 season is Friday at West Virginia. The Mountaineers are much younger this season than the team that went to the Final Four a year ago, but still feature one of the nation's premier post players in Kevin Jones and expect to be contenders in the Big East Conference.
"Obviously the level of competition is going to be different going forward, and like I always say when we plays these games, these teams are going to expose us," Kampe said. "We're going to know when we walk off that court Friday night what we need to do to get better."
The West Virginia game will be available to watch on ESPN3.com and can be heard on the Golden Grizzlies' flagship radio station, WDFN-AM (1130).