Golden Grizzlies claim program-defining victory against No. 7 Tennessee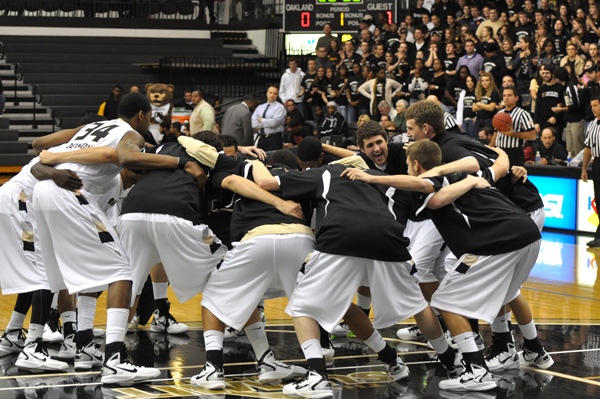 The Oakland University men's basketball team captured arguably the biggest win in program history Tuesday night by stunning the seventh-ranked team in the country, Tennessee (7-1), on the road, 89-82.
The Golden Grizzlies (6-5) rallied from 11 points down at halftime and took a lead it would not relinquish with 4:33 remaining.
"Obviously, we're really excited," head coach Greg Kampe said. "We've come so close. I've told them over and over, 'You're as good as all these teams, but we just don't believe we are.'"
The strong play of Oakland's three seniors — Keith Benson, Larry Wright and Will Hudson — proved to be too much for the Volunteers to handle.
Benson scored a game-high 26 points, 20 of which came in the first half. He had to leave the game for several minutes early in the second half with an ankle injury, at which time several other players stepped up to continue OU's comeback effort.
Wright scored 19 points, including a 3-pointer with 40 seconds to play that put Oakland up by six points. Hudson's 17 points and nine rebounds were also crucial to Grizzlies' victory.
"Kampe and I have known each other for a long time," Tennessee coach Bruce Pearl said. "He does a great job. I don't understand how we got outplayed in the second half. I haven't quite figured that out. If I knew, I would have made some better adjustments."
It was Oakland's second win against a ranked opponent in program history, and the first against a top ten foe. Coming into the game, Tennessee was the nation's top team in RPI, a critical determinant in NCAA Tournament selections and seeding come March. The Grizzlies will undoubtedly jump significantly in the rankings this week.
Oakland's win comes just three days after narrowly missing out on defeating Michigan State, 77-76, on Saturday.
The Grizzlies shot 53.7 percent from the field, and hit on nearly 80 percent of its free throws.
Sophomore Ledrick Eackles provided offensive spark off the bench with 12 points, as well as five important rebounds.
"I really told them that you just have to believe in yourself," Kampe said. "We're as good as these teams. We missed free throws down the stretch against Michigan State, but we didn't today. That's why we won. I have a very good team because I've got very good players. Now that they believe they can do this, maybe good things can happen."
Perhaps lost in the excitement of the victory was the return of junior Drew Maynard, who was reinstated to the team after a month and a half suspension for violation of team rules. Maynard saw his first game action of the season with a couple minutes at the end of the first half.
Up next for the Grizzlies is a trip to Ann Arbor to take on the University of Michigan at noon on Saturday. Following that game, OU will return home to host a pair of games on Monday and Tuesday of next week at the O'Rena.