Grizzlies can't catch up to Texas in NCAA Tournament loss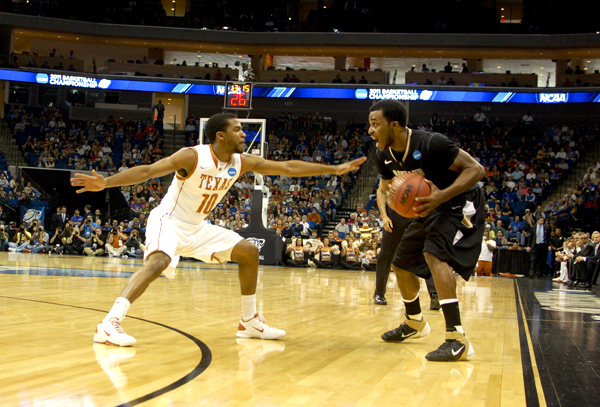 TULSA, Okla. — It seemed so close. After trailing for much of the game, and by as much as 17 in the second half, a three-pointer by senior guard Larry Wright brought No. 13 seed Oakland University within just five points of No. 4 Texas with 1:22 remaining in the game.
However, it was not to be as another captivating season for the Grizzlies came to a disappointing end Friday afternoon as the Longhorns held on for an 85-81 victory in the second round of the NCAA Tournament.
The Grizzlies had a chance to make it a one-possession game, but junior guard Reggie Hamilton's three-point attempt with 47 seconds left rattled in and out, allowing Texas to put the game out of reach at the foul line.
"All throughout the game you've got to have the confidence that every shot's going in," Hamilton said. "That's how the ball rolls sometimes. Unfortunately, that ball rimmed out."
Oakland coach Greg Kampe was particularly disappointed because he felt this team had a chance to make a postseason run.
"This is a team that I thought could get to the Sweet 16," Kampe said. "Our league's gotten so much better. Our league's good and people don't know it. The way they're going to find out is if a team like Oakland goes and wins in the Tournament. That's where the disappointment comes from."
Kampe said he was still surprised that Oakland drew the Longhorns for its opening game.
"We just got a bad draw," Kampe said. "We play everybody in the country. I know who is good and who isn't — and that Texas team is as good as anybody. Texas can win the National
Championship."
Kampe said Texas' defense and ability to bother Oakland's shooters was the difference in the game.
"If you would have told me that we were going to hold them to 85 points and we'd have 17 offensive rebounds and they'd have 15, I would tell you that we were going to win," Kampe said. "We just didn't make shots, and I think we might not have made shots because of their defense. Every shot we took was contested."
The Grizzlies took an early 7-4 lead, but Texas went on a 6-0 run and never relinquished the lead. Oakland trailed 46-38 at halftime, and saw that deficit climb to double-digits early in the second half.
"Texas is a tough, great team," Hamilton said. "It all started in the first half. You know you make runs, everyone's going to make their run. Unfortunately, our run came too late."
Hamilton led Oakland with 25 points on 10-of-19 shooting, but he was just 2-of-9 from 3-point range. The Grizzlies shot only 24.1 percent as a team from beyond the arc.
"We had two or three go in and come out, but (Texas) really contested the three, and they can do that because if you get by them they can block shots, similar to at our level how we contest teams in our league," Kampe said. "If they get by us, (Keith) Benson's there to block shots."
In what turned out to be his final collegiate game, Benson scored 15 points and had 11 rebounds, his 20th double-double of the season.
Benson finishes his career as the Summit League's all-time leading shot blocker with 371, and he ranks second all-time in rebounds.
Benson was matched up with the Longhorns' dynamic freshman center, Tristan Thompson, for most of the game.
"(Thompson) has long arms and he goes hard to the offensive boards, so as a team we really had to focus on him a lot," Benson said. "He had some good shot blocking skills, so I just tried to battle with him and keep him off the boards."
Senior forward Will Hudson had a double-double of his own with 14 points and 10 rebounds, while Wright added eight points.
Kampe said saying goodbye to Benson and the other seniors will be difficult.
"Our university owes (the seniors) a great debt," Kampe said. "I'm so fortunate to have coached them.
"To see a kid like Benson come through, and when David Stern yells his name with the whatever pick in the first round, I'm going to be the happiest Oakland University employee in America because these guys have done great things for our university."
The loss dropped Oakland to 1-3 all-time in the NCAA Tournament, and 0-3 in its last three tournament games.
"Last year I was upset about the way we finished against Pitt, and I watch coaches at these things and how they look like they're going to cry and all that," Kampe said. "It's a tough business, but I'm going to tell you something. I love this basketball team. It was a great year for Oakland University, just a great year. So I guess I'm going to cry too, because I hate that it's over."