Keith Benson prepares for jump to NBA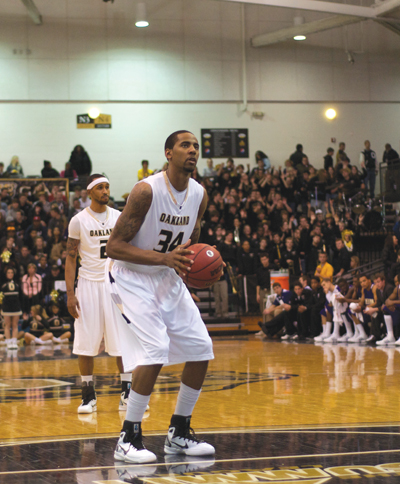 The celebration confetti has settled from the Summit League Championship and trip to the NCAA Tournament, but the two-time Summit League Player of the Year, Oakland University's Keith Benson, has his sights set on a new objective — the NBA.
Rumors have been swarming and agents have been calling since his junior year, but Benson said he's not getting ahead of himself.
"I still have a long way to go; it's not guaranteed," Benson said.
Benson said it was during his first season as a member of the Grizzlies when scouts began noticing him, but it wasn't until his sophomore year, when he had a breakout game against Michigan, that he saw his own potential.
He scored 23 points to go with 11 rebounds against the Wolverines that day.
"That's when I started to see that if I can do this against the Big Ten, then I can do it against anybody," Benson said. "I got a lot of confidence that game and carried that forward."
Benson would go on to lead the Grizzlies to back-to-back Summit League championships and consecutive appearances at the NCAA Tournament during his junior and senior seasons. He finished his career at Oakland as the Summit League's all-time leader in blocked shots with 371.
Although his career at OU has come to an end and his locker has since been cleaned out, Benson still continues to shoot around in the O'rena to improve his game.
On most days, it's hard to miss Benson as he saunters across campus. The 6-foot-11 Benson said he is often greeted with waves, hugs, high-fives from friends and fans of the team.
Benson is often referred to as "Kito," a nickname he said his parents gave him when he was a kid.
"When I was young my mom wanted to call me something to tell the difference between me and my dad (Keith Benson Sr.)," Benson said. "I didn't like it for a while, but it caught on when I played at (Birmingham Detroit) Country Day, and just stuck."
And now, the name is stuck to him in more ways than one.
Benson has the nickname tattooed inside a basketball hoop on one arm and the words "killa instinct" on the other. The "killa instinct" is all about basketball, Benson said.
"You have to have the 'killa instinct' to defeat your opponent, not just play to play," Benson said. "You have to cut them off and win."
Two weeks after the Grizzlies lost to Texas in the NCAA Tournament, Benson and the team met to play a pickup game in the O'rena.
On his way to the court, Benson passed through the glass-paned door of the O'rena that boasts a life-size decal of him.
Benson said he has waited a long time to see his picture there, but despite the hard work and waiting, he's not satisfied.
"I don't really like my picture," Benson said with a shrug.
During breaks in the game, Benson stayed on the court, practicing jump shots and free throws.
"I pretty much do something every day, whether it's playing at the gym, working out or shooting," Benson said.
So far, the work has paid off as Benson has been sought after by professional teams and has played several of his college games in front of NBA scouts. The Portland Trailblazers, Charlotte Bobcats and New Orleans Hornets are just some of the teams that have come to see him play, according to Benson.
"I don't let it affect my game, but it's always in the back of my head, but I try not to think about it and just play," Benson said.
One would think that someone on the brink of signing a contract that is guaranteed to be worth nearly $400,000 and a future in the spotlight would be bursting at the seams with excitement.
But if you ask Keith Benson, "Do you know how cool it is that you're going into the NBA?"
A coy smile and a bobbing nod of the head is all that he will reply with.