Press Conference kicks off Lollapalooza Festival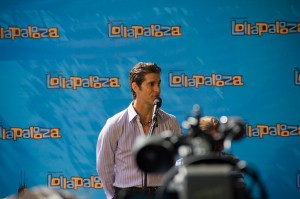 Lollapalooza, one of the biggest festivals in the United States, is more than just a 3-day sprawl for a nation of strangers to congregate and dance to music. The festival is celebrating their twentieth year and making enormous strides to give back and give more.
Bryan Traubert, Member of the Chicago Park District Board of Commissioners, estimated the show brings in $85 million to the city, giving it a major economic bump in times where many major cities still find funds critical. Roughly 40 percent of 270,000 out-of-towners bring in revenue for local eateries, hotels and other accommodations the city of Chicago has to offer.
"Twenty years ago, I expected to see maybe ten to twenty thousand weirdoes showing up from town-to-town and now I'm proud to say we have ninety-thousand weirdoes showing up here today," Perry Farrell, frontman of alternative rock band Jane's Addiction and founder of Lollapalooza, said.
"It is our responsibility as event producers in our industry and society to lead by example and give back wherever we can," Charlie Jones, event planner for Lollapalooza via C3 Productions, said.
The biggest splash for giving back to the music world is their freshly announced partnership with the Berklee College of Music in Boston.
"Berklee College of Music is thrilled to be involved with such a renowned and influential festival like Lollapalooza," Deborah Bieri, Senior Vice President of Berklee said. "This is where we want to be."
Starting next year, the partnership will be bringing one fully-funded scholarship to a student each year, after they go through auditions. The festival is also expanding their reach to include more local flavors to the mix is with their Lollapalooza Chow Town food court, showcasing some of the best foods the Windy City has at its disposal.
"(There is an) ethos and philosophy of food and music as a symbiotic relationship and a way to express yourself," Graham Elliot Bowles, Culinary Director of Lollapalooza, said. "Making food that showcases what the city is all about, to be part of it is humbling and amazing."
In addition to the press conference, Elliot introduced famed pasty chef and host of "Ace of Cakes," Duff Goldman, bearing a Lollapalooza branded lemon cake.
The creative force behind the festival has broken down all barriers this year, making this two-decade festival a fun-filled weekend packed full of music, mouth-watering food and spectacles you'd have to be here for to believe, setting the tone for the festival off with a fiery kick.
Be sure to check in regularly to www.theoaklandpost.com to check for more updates and follow @theoaklandpost on Twitter for live updating during the days to come.