Chromeo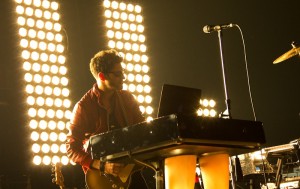 The electronic scene is growing in popularity at a rapid pace. Groups are dominating the airwaves with filtered electronic beats and dancehall anthems, with the sound being embraced by singers adapting to the times.
Fortunately, Dave 1 (real name, David Macklovitch) of Chromeo doesn't see them as part of the trend.
"To be honest, I don't feel like we're part of that sort of electronic music," Dave said, "It's very different from what we do."
What Chromeo does, as Dave on guitars and lead vocals and P-Thugg (real name Patrick Gemayel) on synthesizers and keyboards, is create a nostalgic 80's style electronic funk hybrid, filled with tight basslines, danceable beats, "vintage synthesizers and drum machines, and Loverboy lyrics," producing a sonic experience that rivals the mainstream electronic being spun today.
"I think what's going to happen is electronic music, like rock music is going to become increasingly compartmentalized. You have stuff like us which is more of the indie side of electronic music, and then you have the more mainstream side to electronic music," Dave said, "But I wouldn't knock any of it. We're fortunate enough to be able to go on tour and do shows."
Chromeo has a unique flair in being a band-based outfit but still having the pull of an electronic group, giving them free range of tours and shows to do, from the current tour with Michigan native and soul revivalist Mayer Hawthorne, to New York's Electric Zoo festival which boasted a heavy line-up of major electronic artists like David Guetta and Skrillex.
"That's something we're really happy with," Dave said. "We were the only band [at Electric Zoo] on the main stage and our music is more song-based where a lot of electronic is tracks-based, so we can only hope it makes for a listening experience that's refreshing."
The hilarious chemistry between Dave and P-Thugg is evident on their recordings and in their videos, which Dave assures has been organic to their relationship from the start of their musical career together, and while it's good for them to have, the humor is more an ode to projecting honesty as an artist.
"It's an attempt to be high-brow and low-brow at the same time. I think it goes with what you're personality is, and what counts is being true to yourself," Dave said. "We have this kind of humor built in to what we do and hopefully it charms people and becomes part of the whole Chromeo package."
Their onstage antics will be experienced first-hand by Metro Detroiters Monday September 26 when Chromeo come through Detroit's Majestic Theatre on their current tour.
"We're focusing on making the show as tight as possible, making it the best show we've ever done and honoring the legacy of our friend DJ Mehdi (The France-based DJ and Chromeo collaborator had tragically passed on September 13)," Dave said. "It's a torch to carry for all of us since we're his friend."
With Chromeo's tour plan running through the rest of the year, Dave has put his work towards his Ph.D in French Literature on hold, along with one of his other passions alongside music, teaching.
"I did [teach] the last academic year," Dave said, "I'm not going to this year because the schedule is just a little bit too intense, so it's better for me just to focus on this."
Surely fans will be receptive towards the energies being focused when Chromeo perform Monday night when the duo play through a their funk-filled set and get the adoring crowd dancing without reserve on the floor.