Student harbors ambition for internationalism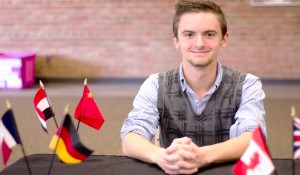 Junior Steve Wynn is making a difference, both at home at Oakland University and abroad in Germany.
Wynne, an English secondary education and German K-12 education double major, works in Career Services as a peer mentor. One of his duties is to advertise the assistance offered by Career Services through blogs and an information table in the Oakland Center.
"Steve makes a good peer mentor because he has a lot of enthusiasm for learning and sharing what he learns with others," Kathy Livelsberger, the assistant director of Career Services, said.
As a peer mentor, Wynne gives students resources that can help them find internships or full employment. He is enthusiastic and open to talking to other students and is an advocate for taking on risks and challenges, Livelsberger said.
For his own career plans, Wynne said he wants to teach in an upper level high school or an International Baccalaureate school in Germany, where he studied abroad last school year in the city of Oldenburg.
"My goal is to return to Germany to teach either English literature for German students, or German as a second language for native English-speakers in Germany," Wynne said.
While studying abroad in Germany, Wynne worked  as an English tutor for elementary-aged Turkish students.
Wynne encourages all students to study abroad — he said his own international experience was life-changing.
"It's good to learn how different people think and to have more awareness of other cultures," he said.
Wynne is also active in the community surrounding OU. He was one of the first members of "Rochester PRIDE," which is a "youth driven program that is dedicated to the prevention of drugs, alcohol, violence and self harm," according to their website, www.prideofrochester.com
The program started at Reuther Middle School, where Wynne first joined. He was also a member through all four years of high school at the International Academy in Bloomfield Hills.
As a member of the national performance team for the PRIDE Program, Wynne traveled to the annual conference to spread PRIDE's message through acting, for which he won national awards.
He was also a founding member of "The Upper Room," which is a congregation for drug- and violence-free youth in downtown Rochester.
"We basically want to get kids off the street and keep kids safe and happy," Wynne said.