A doctor's drive for life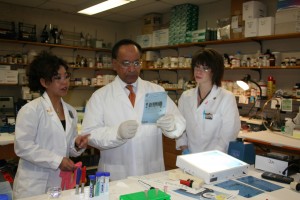 When Senior Vice President for Academic Affairs and Provost Virinder Moudgil leaves his Wilson
Hall office at 5:30 p.m. each day, his work at Oakland University is far from over.
Across the campus in a Dodge Hall lab, three students are waiting for him to arrive so they can continue their research on steroid hormone action as it relates to breast cancer.
Arriving at Oakland
"We examine what are the chemicals that allow or promote cancer growth and adversely — what are the chemicals that can help us stop it," Moudgil said. "Once we have a better knowledge of this, we can take this idea from bench to bedside … which means whatever you do at a bench in the laboratory should have some meaning bedside to a patient."Since arriving at OU in 1976, Moudgil has been investigating the mode of action of steroid hormones. Since the early 1990s, the research has become more focused on examining the action of steroid hormones on breast cancer cells grown in culture.
Moudgil received his Master's degree and doctorate from Banaras Hindu University in India and completed a three-year program in hormone action at the Mayo Clinic. Immediately, he wanted to begin his own research.
"That (the Mayo Clinic) exposed me to two very prestigious institutions in which I was given the opportunity to be (a) faculty member or have a higher level of association than I was before, but no independence," Moudgil said. "I said 'I don't need that, I want to have my own little shop.'"
The third position Moudgil was offered was at OU, which he had never heard of before.
"The moment I stepped here, I loved this place — the trees, the lawn … so this was the number one attraction before I even went into the laboratory." Moudgil said. "… They told me I will have my own laboratory, I will not be working for someone else and I can teach my own courses. I said 'this is it, this is all I need.'"
A lasting impact
The students that Moudgil works with in his lab sometimes commit years of their time toward the effort. His relationships with his students continue after their time in the lab is complete, which he said is his biggest accomplishment.
"I consider myself very lucky to be working with Dr. Moudgil, I couldn't imagine a better mentor. He's set the bar pretty high as far as the amount of time (he spends at the Provost Office and in the lab)," Amy Siebert, a master's student working in Moudgil's lab, said.
Amelita Sanchez, a Ph.D. biochemistry molecular endocrinology major, and Siebert both spend countless hours working in the lab — often times right along side Moudgil.
"It's a privilege and an honor (to be working with him). He puts in an enormous amount of time," Sanchez said. "Every evening we meet with him to discuss (what goes on in the lab)."
Though Moudgil spends much of his time on campus — arriving on campus early in the morning and leaving sometimes after 10 p.m. — he still tries to make time for things he enjoys.
"His (Moudgil's) integrity and work ethics are unmatched," Dru Doran, senior executive secretary to the provost, said. "He is just totally devoted to working at OU … I've never seen anyone work (so hard)."
Interests beyond the lab
"The power of pen is very strong; even though I am a scientist, my interest is in literature. My bedtime reading is not science — it is history, literature, poetry, things like that," Moudgil said.
In the little free time he has, Moudgil enjoys reading.
He has also written his own material. In the past, he has written plays and music — which he used to perform. He spent 21 years in a local singing group made up of other professionals.
"We formed a music a group and we would practice in each other's home by rotation, so if they were coming to your home — you provide the snacks," he said.
The group performed two concerts a year, but by the year 2000, the group went their separate ways.
"I loved that, because those efforts allowed me to use my music interests, my poetry, my knowledge of history … when you're in that position, you have the mic, you can say whatever you want."
Throughout his entire career, passion has been key.
"If you don't have passion for what you are doing, you cannot pretend to do it day after day."
—-Contact managing editor Megan Semeraz via email at [email protected] or follow her on Twitter @MeganSemeraz