Student profile: Piecing it together — Fadi Sallan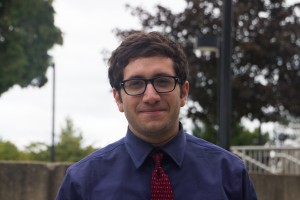 Often times, the car is seen as just another utility, a way to get from A to B in the most efficient manner possible. No thought is put into what makes the vehicle work.
It is in this area mechanical engineering student and senior, Fadi Sallan, could probably provide more insight than most.
Sallan has spent the last two months working at Brose, an automotive parts supplier based in Germany. According to the company website, Brose partners with about 110 automotive manufacturers and suppliers at 53 locations worldwide.
Sallan said  having an internship at the Brose's Auburn Hills location has taught him a bit about the differences between theory and practice in engineering.
"I've learned a lot working there but mostly about the products and, how they are integrated into different systems," Sallan said. "Knowing the fundamentals of engineering can help you expand your career options in the future and make you a well-rounded engineer but are not always used in the real world."
Seeing all the pieces of the puzzle come together has given him a greater understanding of how a car works.
"I really enjoy field testing products with the other engineers," he said. "Touring the various plants and supplier labs are also quite interesting. No one really understands all the work that goes into making a car until you've seen the process in its entirety."
Sallan said  showing an interest and a healthy level of curiosity can help students get the most out of their internships.
"My main goal is to lighten the load of work among the engineers as best as I can," he said. "Showing that you are eager to learn new things before and after getting an internship is a priority. I suggest getting to know everyone you work with and to never be afraid of asking questions."
Career Services Director Wayne Thibodeau said internships, like Sallan's internship, help augment the educational experience.
"The internship provides opportunities for students to apply and reflect on knowledge and concepts learned in the classroom," Thibodeau said. "We often hear from students that the hands-on application of an internship can affirm your major or career direction or support reasons to consider another path."
When it comes to getting the internship, Sallan said knowing someone helps, but there is no substitute for persistence.
"Nothing surprising, if you interview for enough positions you're bound to get hired," he said.
Thibodeau said they recommend every student work at least one or two internships in order to maintain competitiveness in an increasingly difficult job market. Internship opportunities can be found by visiting recruitment sites such as OUCareerLink.com, visiting company websites and attending career fairs.
For students already working internships, Thibodeau recommends taking advantage of every opportunity.
"I recommend capitalizing on as many opportunities to meet new people and learn about the business operations during your internship," he said. "Be flexible and willing to get out of your comfort zone to give presentations, attend meetings, raise your hand to work on new projects and demonstrate your creativity to make a positive impact on the organization."
According to the National Association of Colleges and Employers, more than 50 percent of interns are being converted into full-time positions, he said.
—
Contact Senior Reporter Kevin Graham via email at [email protected] or follow him on Twitter @KevinGraham88