Theatre students work with professional deaf actors in Mich. premiere of Terp play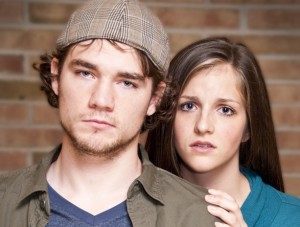 Together, the Oakland University Department of Music, Theatre and Dance with Terp Theatre presented the opening night of "Police:Deaf::Near:Far" Thursday, Oct. 4 at 8 p.m., with the play making its Michigan premiere in the Varner Hall.
"This play puts ethical questions out there," said professor of theatre, Karen Sheridan. "It will make people think about what they know about deafness, how they'd respond in certain situations. The deaf don't consider themselves handicapped. For them, it's a way of life."
The play, by playwright David Rush, is based on true stories that happened in Chicago in 1996 and Detroit in 2000. It follows the lives of the hearing and deaf as they interact and are brought together through tragedy.
After auditions, the cast trained during the summer to learn the language, according to Sheridan. The play provided OU theatre students an opportunity to work with professional deaf actors Daniel Durant of Los Angeles and Garrett Zuercher of New York.
One of the big questions the play asks people is to,"not to think of people who are deaf as people with broken ears," according to Sheridan. With the mix of communication, the play displays its own theme, with accessibility to the deaf and hearing.
The student actors' work with the professionals taught them about communication. According to junior theatre major Jackie Gubow, who played Trainer and Arresting Officer Sanford, the experience was both educational and wonderful.
While she did not know sign language, teaching herself for her role and working with others helped her to learn.
"It was amazing and incredible," Gubow said. "Working with the two deaf actors from New York and Los Angeles made this an incredible experience."
Theater major and senior Anna Wyatt took the COM 114 class and worked with interpreters over the summer to learn American Sign Language. She said it was one of the best experiences she has had in a long time.
"(ASL) is a very rich language," Wyatt said. "The whole cast pulled together to learn and it really is a great production."
For senior Joey Feldmann, signing was also a new experience. Working with the deaf actors helped him learn, though at times it was a challenge.
"Everyone worked well together," Feldmann said. "We welcomed our guests to the OU theatre family with open arms and we've grown to be friends."
Junior theatre major Josh Williams attended the play. Although he does not know a lot of sign language, he appreciated the work and ideas brought out.
"My first thought after watching the play was how impressive the communication situation is between the deaf and hearing," Williams said. "The play showed how many issues people work through to coexist. People need to take the time to understand we're all human beings, not just disregard others."
SHOWS & TICKETS
WHEN There will be a total of 12 performances, Oct. 4 – 14. Tickets can be purchased at the box office.
PRICE Tickets are $18 for adults and $10 for students.
MORE INFO To learn more, visit www.pdnf.terptheater.com.