Volleyball finishes home schedule with sweep of Omaha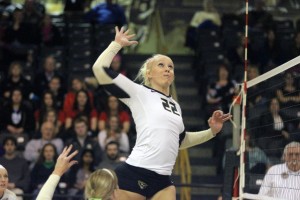 Friday was Senior Night as the Oakland University volleyball team (15-11, 8-6 Summit) defeated Omaha (6-19, 1-12 Summit) in three straight sets at the Athletics Center O'rena. Sophomore Taylor Humm recorded 12 kills and 14 digs and senior Meghan Bray earned 11 kills and 14 digs. The Golden Grizzlies swept the match with set scores of 25-17, 25-18 and 25-10.
"I was really pleased to be able to send our seniors off on their last home match with a win," head coach Rob Beam said. "It was a really well played match."
Freshman Amanda Baker finished with five blocks and a .545 hitting percentage. Senior Brittany Holbrook's five kills moved her closer to becoming the fourth Oakland player to reach 1,000 kills. Seniors Alli Kirk recorded 10 digs, Amber Miehlke finished with four kills and two blocks and Jillian Kulka completed the game with two digs and one assist.
Omaha and Oakland kept it close in the first set, where Oakland only led 13-12. The Golden Grizzlies then took 12 of the game's next 17 points and won the set 25-17. Humm made sure Omaha didn't get comfortable, recording eight kills and six digs. The momentum shifted early on in the second set, when Omaha led 10-6. Oakland evened the set up at 11-11 thanks to a kill by freshman Ciara Schultz. Oakland took control by going on a 14-7 run, winning the set 25-18.
The third set was dominated by Oakland from beginning to end. They got off to an insurmountable 11-0 lead which included kills from Miehlke, Bray, Humm and Baker. Omaha recorded a point, but Oakland did not let it throw them off of their groove. They scored five unanswered points, which extended their lead to 16-1.
"We worked so hard," Kirk said of the impressive run. "We were in the zone."
During the third set, Omaha freshman Kelley Wollak went down with an injury and had to be helped off the court. Omaha scored three points in a row to make it 21-6, but it was not enough to overcome the large deficit. Bray's 11th kill of the match came on the final point, leading Oakland to a 25-10 victory.
"They weren't going to be denied," Beam said of the third set. "Alli Kirk is so consistent as a server that it was going to take a tremendous effort."
Five Oakland seniors were honored on the court prior to the start of the match. Each senior was presented with a framed jersey as they walked onto the court with members of their family. This group came into Friday as the winningest senior class in school history.
"Just a special group," Beam said. "I've seen them play, most of them since they were 14 or 15 years old. Even when I was an assistant coach at Illinois State. So this goes back a long way."
Kirk called the night bittersweet. For the younger teammates, it was just as difficult.
"(This is) hard," Humm said. "It's not something I'll get over."
The Golden Grizzlies came into Friday night tied for fourth place in The Summit League with Kansas City. After Oakland's win and Kansas City's loss to North Dakota State, Oakland now stands alone in the final spot for The Summit League Championships. Oakland will finish up their season on the road this week, traveling to IUPUI and Western Illinois as they continue to try to secure the final postseason spot.