Oakland earns top-seed in Summit League championships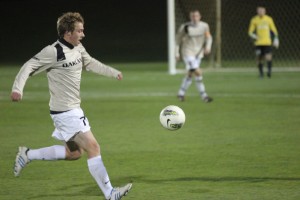 The Oakland University men's soccer team faced Eastern Illinois in their final game of the season Friday afternoon, ending in a double-overtime draw.
Oakland (10-6-1, 5-1-1) finished the season with 16 points to beat out Kansas City by a single point. It is the ninth regular season league title for the Golden Grizzlies and the second under head coach Eric Pogue, who is in his fourth year.
OU entered the contest against Eastern Illinois needing either a win or tie to lock up the title due to Kansas City losing 2-1 to Western Illinois earlier in the afternoon.
The Panthers gave Oakland issues early on, making scoring opportunities difficult to come by. Oakland had several blocked shots and close opportunities they could not capitalize on.
"They did a great job getting numbers behind the ball to make it extremely difficult for us," said Pogue.  "Defensively they did an excellent job protecting the net and bottling up some of our key guys, making it tough to adjust."
Eastern Illinois came out and almost saw a chance to ruin the opportunity for Oakland during the 3rd minute of play when forward Tayron Martin attempted a shot on goal that hit the right post.
Oakland outshot the Panthers 9-5 in the first half but could not close the deal on several opportunities.
Freshman midfielder Shawn Claud Lawson had the best shot during the 13th minute. He redirected a cross from junior midfielder Michel'le Lipari that hit the left post.
Senior forward Kyle Bethel, who saw limited opportunities in the first half to score, hurting Oakland's chances of winning the game.
Bethel has been a key player for Oakland this season, with the senior recording six goals and 11 assists as well as 23 shots on goal.
"Coach told me at halftime that I was holding on to the ball too long," Bethel said.  "He told me when they put multiple guys on me I needed to just get it, give it off and find another way to get the ball back."
Junior goalkeeper Scott Messer finished the game with a clean sheet, tallying six saves for Oakland.
The  top-ranked Golden Grizzlies will face fourth seed Fort Wayne on Friday at 3 p.m.
"Going into the tournament we just need to work on beating up the opposing defense and being sharper on offense with our set pieces," Pogue said.
—-
Contact Staff Intern Allen Jordan via email at [email protected] or follow him on Twitter @aj1218