Campaign Roundup event to discuss election results, impact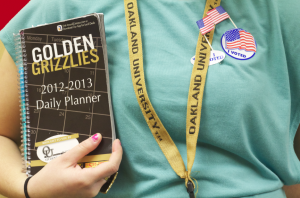 Following this year's election, Oakland University will host its sixth Campaign Roundup Nov. 8 from 12:30-2:30 p.m. to break down the results.
"It's worthwhile for students to gain experience and hear from people outside of faculty," said John Klemanski, professor and chair of political science. "It's nice to have them lend their expertise."
Klemanski and Dave Dulio,  chair and associate professor in the political science department, co-organized the event in 2002 when Dulio came to OU.
Dulio modeled it after an experience he had in graduate school at his mentor's forums.
Panels have taken place following several elections since then, including the 2008 presidential election.
"I saw how important it was to discuss election issues and wanted to bring that to OU," Dulio said.
A panel consisting of Chuck Stokes from WXYZ-TV, Christy McDonald of Detroit Public Television, Rich Robinson of the Michigan Campaign Finance Network, Bernie Porn of the polling firm EPIC-MRA and moderator Terri Towner, assistant professor of political science, will discuss the results of the election to attendees from the OU community and beyond.
"There's such a buildup to election day," Towner said. "Candidates campaign for so long, there's a need to discuss what happened."
In addition to examining results of elected officials, the event will look at the state races, as well as proposals, discussing what they mean for students and the community, according to Towner.
Hosted in the Gold Rooms of the Oakland Center, the Campaign Roundup will include a lunch, the panel's discussion and an opportunity for questions from the audience.
The event was coordinated by the Political Science department and is sponsored by Oakland University Student Council, College Republicans and Pi Sigma Alpha Honor Society.
Guests can register online at www.grizzlink.oualumni.com.