Coach Greg Kampe nearing 500-win milestone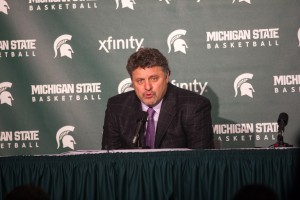 Head coach of men's basketball Greg Kampe is bound for coaching record books. Kampe is one of nine Division I coaches to be at a school for 25 years or longer and ranks fifth among active coaches for coaching at a single school. This brings himself and Oakland University into conversation with national powerhouses Duke and Syracuse.
Kampe is coming into his 29th season as head coach of the Grizzlies.
"I feel old. I went with the goatee this year because it has a little grey in it, so at least I am showing my age a little bit," Kampe said. "I wasn't planning on being here this long, it just kind of happened, and I feel fortunate every day that I am still here."
Coming into this season as head coach, he is still a relatively young age ­of 56, considering the amount of experience he has. Another milestone Kampe may hit this year is the 500-win club.  At this point in his career he has 492 wins, just eight shy of 500.
"Every one of these milestone wins you get asked a question like (how do you feel?), and you really don't think about that," Kampe said.
Kampe said he hopes the 500th win comes within the first part of the season. Once the team reaches that milestone, he wants to look forward to game 501 and how best to win that one.
"After the season is over you look back, and I have a lot of pride in the accomplishments," Kampe said.  "It means I have had a lot of really good players, it means that I have had a lot of really good assistant coaches, and my staff has been great."
Kampe often gives his players and staff the credit for the teams' success. The staff and players say it is all because of Kampe's leadership.
"Though he really gets on guys here and there, he just wants them to be the best they can be, and that shows what type of coach and man he is," Student Manager Kyle Mansour said. "
Mansour said that Kampe's tough nature rubs off on his team.
"I have been fortunate that the people here have wanted me to stay," Kampe said. "It's a great institution, and a great place to live and to have your family grow up."
Next year will mark Kampe's 30th season as the Grizzlies head coach. Hitting a milestone that not many coaches have or will reach.
Though Kampe is approaching his 30th season as head coach, retirement still isn't on his mind.
"Oh no," Kampe said. "I've got a long way to go, I just hope Oakland will keep wanting me, but I'm going to be here for a while, I hope."