A Miner change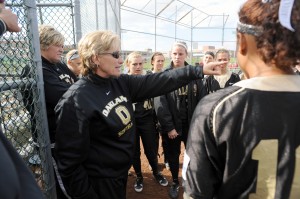 Oakland University's softball program has seen its fair share of changes during the off-season, most notably the hiring of a new head coach Connie Miner.
Miner replaces LaDonia Hughes, who left the program last year following a 10-38 season. The Grizzlies were just 27-67 in Hughes' two years at the helm.
Miner has previous head coaching experience at Eastern Michigan, San Jose State and the University of California Riverside.
Fresh faces
When assessing the team, Miner believes pitching is the area with the biggest room for improvement over last year.
"Our ERA last year was around 6.50 last season and it's very tough to win games when you are giving up that many runs," Miner said. "It puts a lot of pressure on the defense and the offense to score a lot of runs."
Looking to improve play in the pitching circle are freshmen recruits Laura Pond, Erin Kownacki and Sarah Hartley. Each had a strong fall season for the team.
Junior catcher/outfielder Erika Polidori said she expects the freshmen newcomers should be able to contribute early on.
"We have two freshmen pitchers coming in who look like they're going to play a lot of innings and games," Polidori, a nursing major, said. "We have a lot of freshmen who are going to look to start and they're going to bring something special to the team I think."
Miner also said they need more of the team to hit .300 this year to not put pressure on any one group of players to perform every game.
A new attitude
Polidori said Miner has spent a lot of time on the mental aspect of the game with the team.
"She's done a lot of team building things, a lot of confidence building things, worked a lot on our skills obviously," said Polidori.
Polidori said she thought the team beat itself last year by letting mistakes pile up until they could not overcome them. She said this year the team has renewed confidence.
"This year it's going to be having the confidence and knowing that we are good enough to win a lot more games and have a much better record and have the chance to make it to the Summit League conference tournament," she said.
Being competitive in the Summit League was a goal both Polidori and her coach emphasized.
On the recruiting trail
"Hopefully I can instill in the team to have faith and believe that at the end of the year they will be in a position to get into the tournament because you can do anything if you believe something and have faith in it," Miner said.
Miner said she will have to hit the ground running on recruiting. The late timing of her hiring means she will have some catching up to do.
"In softball, people are already looking at recruits for the 2015 and 2016 recruiting classes, so coming here I know I am already behind in recruiting some of the best players in the state of Michigan," she said. "Of course there are kids who will develop later or fall through the cracks but because of the experiences I do not panic about recruiting like a younger coach might."
Assistant Athletic Director for Development Gordie Lindsay said Miner was hired in part because of her ability to build a program.
"She has built two programs that were similar to ours in Eastern Michigan and UC-Riverside and had tremendous success while coaching several all-conference and conference players of the year," Lindsay said. "She has a true passion for the sport and has a lot of experience that will help guide this program for years to come."
In terms of strategy, Miner's approach is varied.
Key contributors
"I'm not one-dimensional, I like to have a fast team but you also need players who can hit them in so I use small ball and power ball," she said. "I think you have to take advantage of what the defense gives you."
In addition to freshmen, Miner expects continued success for two-time All Summit League selections Polidori and senior second baseman/third baseman Erin Galloway.
Miner said sophomore Jackie Kisman should play well, coming off a strong freshman campaign.
Brittany Prior, a junior, hit the ball really well in the fall, Miner said.
Miner said junior Shannon Cleveland has taken her coaching tips well and is working to improve her game next season. Junior Chelsea Carena had a good fall season as well.
Oakland opens up the season down south after spring break.
Contact Senior Reporter Kevin Graham via email at [email protected] or follow him on Twitter @kevingraham88