Getting to know Jim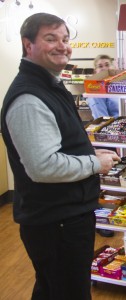 During the interview process for the job of housing director at Oakland University, a student leader asked Jim Zentmeyer a question, which would go on to shape his approach to the job.
"This student was a first year resident assistant and she asked me the hardest question," he said. "The question was simply, 'will you remember my name?'"
For Zentmeyer, the question asked a lot more.
"The question said, 'Will students matter to you?'"
Pursuing passion
Zentmeyer, who was February's Employee of the Month worked at seven different universities in New York, Pennsylvania, Illinois and Ohio before coming to OU in Jan. 2010.
It's at OU that Zentmeyer feels he's gained the most freedom.
"A lot of that passion does come from within and personal issues of faith, but this is by far the university that has given me the most leeway to kind of live out the passions that I've always wanted to see in my career and in my interactions with students," he said.
Student Congress Vice President and on-campus resident Robbie Williford said it is not uncommon to see Zentmeyer eating lunch with students.
"I could go into the cafeteria during lunchtime and see him sitting there talking to students, eating lunch with them, coming to the RHA meetings which are later on, they're at 7 o'clock at night," he said. "I don't know any other administrator other than Jean Ann Miller that really stays on campus that long."
Blazing his own trail
Zentmeyer will be the first to tell you his management style isn't traditional.
"I would say that the typical administrative perspective would be, 'Let's give the students as little information as we can get away with,'" he said. "I swing the other way. There are a number of student leaders in particular on this campus in various organizations, that they can take sensitive information and handle it in a very mature, adult, rational way."
Students were involved very early on in the process of design and construction for the new residence hall, something Williford said really paid off.
He talked about Zentmeyer getting up at an OUSC meeting at the end of last semester.
"It was toward the end of the meeting and we have two spots for comments from the gallery and he got up and he said, 'I don't have many words right now but I do have a few and I want to share them,'" Williford recalls. "'I firmly believe that this campus would not be where it is today without the voice of the students and without the students doing what you guys are all doing in this room right now. You're making your voice heard and you're making a difference on campus.'"
Student communication
Housing, an auxiliary department of OU, makes all its revenue from the students that live on-campus. In this environment, communication is key.
"It's finding a sweet spot between enhancing the program and making sure that we're keeping a lid on the costs of the program," Zentmeyer said. "If you have that open communication with the student population, they will be able to let you know in very short order what they feel is an appropriate cost to bear."
For Williford, Zentmeyer has gone from professional contact to something of a personal mentor.
"It's even to the point where if I have a difficult decision in my life or with OUSC, I know I can go to him and he will give me his advice, or his wisdom or just insight," Williford said. "He makes me think about everything, about things that I had never thought about before."
 Jim's Favorites
Favorite food: Grilled salmon
Favorite artist: Brandon Heath
Favorite movie: "It's a Wonderful Life"
Favorite book: The Bible