A case of the Mondys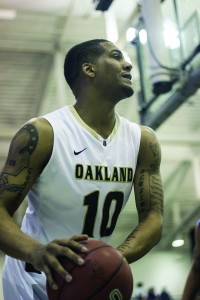 Being a mid-major program, the Oakland University men's basketball team is not usually one of the first choices for five-star recruits.
Instead, head coach Greg Kampe searches for diamonds in the rough, building up talent through his system.
Every given year, OU's roster will sport several transfers from other schools. These players come for myriad reasons, but they are always welcomed with the promise of a second chance, as long as they work hard in a Golden Grizzly uniform.
Duke Mondy is the latest example of this. The junior point guard is currently in his first year at Oakland after playing two years at Providence. Mondy cited OU's winning history and some close friends on the team as the major factors that drew him to the Grizzlies.
"Oakland recruited me out of high school, but it felt right at Providence," Mondy said. "But once I came here, it was a big difference. It definitely was a positive experience especially due to the coaches and players. They helped me to mature a lot and it really helped my game."
An AAU teammate of senior Drew Valentine, Mondy was forced to sit out a full season after transferring, due to NCAA rules. He attributes that year on the sideline as a great learning experience.
"The year off really helped me with my IQ," Mondy said. "I was able to sit back and watch a full game from the coaches' viewpoint. It showed me how to move without the ball and see how to better my defensive rotations."
Getting his shot
Finally allowed to step on the court, Mondy has made the most of his opportunity this season.
Running the point in Oakland's high-octane offense, the player that Kampe has called the 'best passer he has ever coached' is averaging over five assists a game and has reached double figures in scoring 19 times this season.
"My role is more of an orchestrator, just to get the feel of the game and tempo," Mondy said. "I always try to look for my teammates first while I am moving the possession ahead."
Making his teammates better
One major beneficiary to Mondy's passing ability has been Travis Bader. The junior guard leads the nation with 131 3-pointers this season, many of which have been assisted by Mondy.
"When he first got here, he threw some passes in open gyms that I had never seen before," Bader said. "He will pass up a wide open layup to hit me in transition for three, or find me in the corner for an open shot. He is very unselfish and he is the guy that finds you anywhere on the court."
Leading the nation
While Bader leads the country in shots beyond the arc, he is not the only player that tops a statistical category. Mondy has swiped the ball 97 times from opponents this year to lead the NCAA.
"His passing is only his second best attribute," Kampe said. "The most gifted thing that he has is his ability to anticipate what the offense is going to do with the ball, get his hand in the passing lanes and get a steal."
Those steals allow for Oakland to quickly get on offense, usually on an odd man rush.
"I definitely think he is underrated, he is a great defensive player," Bader said. "That is why we can score so many points in transition, because he is able to get us the ball."
Mondy takes pride in both his offense and defense, believing himself to have the chance to be one of the next great transfers to come into the Oakland program.
"I think I can be one of those players, but it is not just going to happen because I am a transfer," Mondy said. "I still have to work hard and put myself in positions to be a guy like Reggie Hamilton."
Hamilton led the nation during his senior campaign last season. He became a Golden Grizzly after transferring from Summit League rival UMKC.
"It is hard being a transfer guard because you have to prove yourself immediately," Hamilton said. "I believe Duke is doing a good job so far when he's playing at that high level where he's scoring, rebounding, passing and stealing the ball. He literally can do it all."
"I'm excited to see him help carry the team in March."