Same team, new era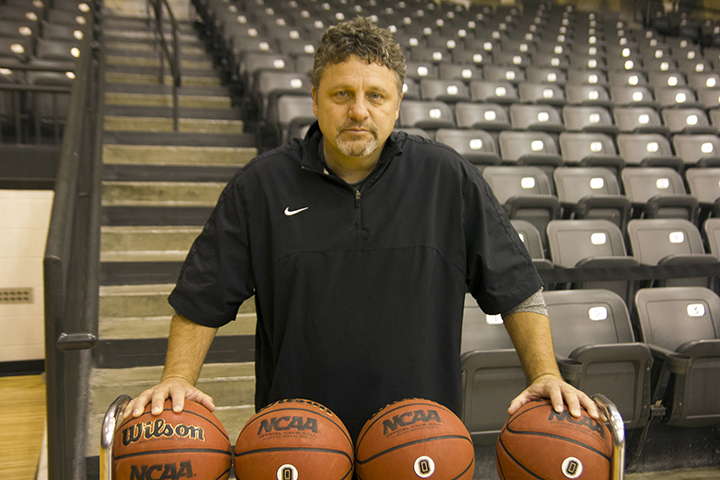 A football club. New structures on campus.  Start of new leadership.  Big switch to major athletic conference. 
With so many things going on around Oakland University in the year 2013, one thing has and will continue to remain the same – the basketball team.
Road trip
Heading into the 2013-2014 basketball season, head coach Greg Kampe has remained consistent in his approach to not only being a leader of men with his team but also giving his program the best opportunity for exposure and NCAA tournament success.
With the recent move to the Horizon League that became official a month ago, the OU men's basketball team will have its biggest opportunity to do just that.
"I'm more excited for the players than anything," Kampe said.  "With the schedule that we have coming up, it gives players a lesson in history playing in some of these historic sites we will visit."
The team takes its first trip as they head to North Carolina to face off against the Tar Heels at the  Dean Smith center.
The coastal trip will kick off a swing of seven games around the country that will include stops at contenders UCLA, Cal and Gonzaga.
"It's another Coach Kampe special in my opinion," senior guard Travis Bader said.  "To get an opportunity to go against some of the nation's best, it's what you live for as a player and will help better prepare us approaching tournament time."
Fans will get the chance to support the team against big opponents near home with a trip to Bloomington where they will square off against Indiana Dec. 10. Followed by an in-state showdown with Michigan State Dec. 14 taking place at the Palace of Auburn Hills.
Teamwork
The biggest opportunity has come in recruiting yet another young nucleus to build on with the move to the Horizon League.
Being in the Midwest, regions like Chicago and Ohio serve as a haven for top talent around the country.  Now with a new athletic home, it has begun to pay dividends for the OU men's team. 
"Right now we are in the top four with kids from Chicago, Milwaukee and Ohio and these were the areas we really wanted to put focus on," Kampe said.  "Going from the 19th rated league in the country to the top 12 in college athletics is a huge difference in the level of player you have the chance to recruit."
After the departure of seniors Drew Valentine and Jordan Howenstine, the Golden Grizzlies return four starters from last year including the nations top three-point shooter in Bader and the nations leader in steals last year in Duke Mondy. 
"I think the biggest thing for this year's team is building a bond off the court to help team chemistry on it,"  junior guard Dante Williams said.  "Our young guys have really picked up on it being here for such a short time, and I think a lot of people are going to be surprised on the product we put out on the court this year."
Half -hour rivalry
Moving from the Summit League to the Horizon will not only raise the level of competition amongst players, but the level of anticipation and excitement locally with the newly renewed rivalry with Horizon League mainstay University of Detroit Mercy. 
"To have a great rivalry, both teams have to win games because rivalries are build on the court and not by word of mouth."  Kampe said. 
The first match up will take place Jan. 14 at Callahan Hall in what is expected to be a full and divided house among U of D alum, as well as traveling Golden Grizzlies fans. 
The rematch comes a month later as the Titans will travel north to play on OU on Valentines Day. 
Though the home game will have much anticipation for a sell-out, coach Kampe's focus isn't on the home game.
"We look to have a sell out with standing room only when they come here, but I want us there with a 1,000 people in Detroit."  Kampe said.