Oakland University is proud to have educated a remarkable group of alumni whose achievements span many fields. The successes of the following OU alumni serve as a testament not only to their talent and drive but also to the power of an Oakland University education.
Barbara Dale 
Barbra Dale is a cartoonist, illustrator and fine artist who attended Oakland University from 1970-1973. During her time at OU, Dale was an English major. 
Dale's English studies, she says, helped develop her writing skills. A few short years after graduating from OU and attending Cranbrook Academy of Art, Dale created her own company. Using $500 left to her by her grandfather, she printed her own funny and edgy greeting cards known as Dale Cards. 
Dale's hilarious way with words is her own. She has created a wonderful brand and uniqueness about her art. She has received many awards and recognition throughout the decades, including the Jack Davis Award for Lifetime Achievement in Cartooning from the National Cartoonists Society and the Reuben Award Division Finalist in 2001 for Greeting Cards. 
"I absolutely love that my time is my own," Dale said. "I can work when I want, absorb life as much as I want, then delve back into work again. It's a rhythm that works for me. And, in the end, I create something that didn't exist before. It feels like playing God."
Dale recognized a few special OU faculty members that allowed her to realize her artistic potential. 
"My student advisor and political science professor was Shelley Appleton," Dale said. "He was wonderful. I also owe a great deal to Helen Schwartz and John Immerwahr. Helen was an English professor, and John taught philosophy."
Randall VanWagoner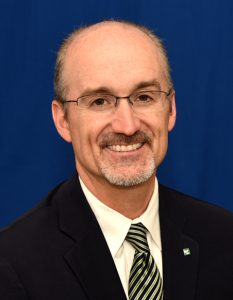 Randall VanWagoner is the president of Mohawk Valley Community College in Oneida, New York. VanWagoner attended OU as a transfer student from the fall of 1987 until May 1990. During his time at OU, he received a bachelor's degree in communications.
"I found a supportive place at Oakland where I could make some mistakes — learning the hard way — and have the mentors around to help me grow and give myself some grace as I clarified my future," VanWagoner said. 
"I had several meaningful opportunities to test myself  — particularly in my senior year when I was a resident assistant with the men's swim team on 2nd Hill House, played on the golf team and had on-campus jobs working in the office of the dean of students a few days a week and the fun job of being intramural coordinator most nights."
Becoming an RA on campus helped VanWagoner focus on his passions and make memorable connections with other students and faculty. VanWagoner was a popular face on campus. In fact, at his graduation, he was one of the three finalists for the Alfred Wilson Award. 
Upon graduation, VanWagoner was accepted into the University of Michigan School of Education and received his master's degree in community college administration. Later, he received a Ph.D. in higher education leadership. 
VanWagoner's career started in Ann Arbor at the Washtenaw Community College and took him to New York, where he has served as president of Mohawk Valley for 17 years.
VanWagoner's other notable accomplishments are publishing a book, "Competing on Culture," and becoming the chief academic officer at Red Rocks Community College and Metropolitain Community College. VanWagoner is the second longest-serving president of his current college. 
VanWagoner recognized a few faculty members who made his OU experience memorable and extraordinary.
"The people that literally changed my trajectory were Jean Ann Miller and David Herman," VanWagoner said. "Jean Ann hired me as an RA and helped me see strengths I didn't know I had and apply them in ways that have helped me become the professional I am today. I owe her so much for tapping me on the shoulder and saying, 'Hey, you can be more than you think.'" 
Miller introduced VanWagoner to David Herman, the dean of students at the time. 
"Dean Herman took an interest in me, and even though I was just a student worker, he'd take time out of his day to ask me questions and have these mentoring conversations about my future," VanWagoner said. "There I was a senior with no real plan after graduation, with unemployment at 14%, and he helped me reflect on my experience at Mott Community College and told me I could go to graduate school and have a career working in community colleges." 
Joe Davidson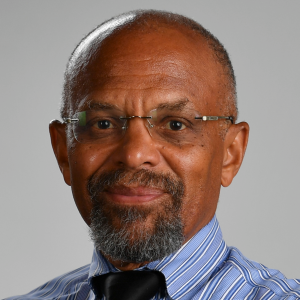 Joe Davidson is a federal insider columnist at The Washington Post. Davidson attended OU from 1967 to 1971 and received his bachelor's degree in education and political science. Davidson was also awarded the Wilson Award for Outstanding Male Graduate. 
During his time at OU, Davidson, at the bequest of Chancellor Woody Varner, met with the publisher of The News.
"At the suggestion of Roger Marz, who was then a poli-sci prof, I told then Chancellor Woody Varner about my desire to be a journalist," Davidson said. "Varner arranged for me to meet the publisher of The News, who hired me as a summer copy aide between my sophomore and junior years. The next summer I was an intern at The News, then I was hired as a full-time reporter after graduating."
Before his current position at The Washington Post, Davidson worked for 13 years at The Wall Street Journal as a Washington D.C. and foreign correspondent. At the time of his correspondence, Davidson was posted in South Africa, where he reported during the apartheid. 
For reporting during his time in South Africa, Davidson was honored by The National Association of Black Journalists (NABJ) in 1986. Davidson is not only a founding board member of NABJ, but he's also in its hall of fame.
Davidson has not stopped reporting throughout his life, only growing as a writer and helping younger generations to get the same and better opportunities he did. He was also recognized as the director of the Pontiac Oakland Educational Assistance Team (POEAT). 
"POEAT provided educational and cultural services for elementary students in Pontiac," Davidson said. "Two days a week, we would bus OU students to schools in Pontiac for tutoring, and two days a week, the Pontiac students would be bussed to OU's campus for activities."
Davidson's work has made an impact on many communities. OU was the starting point for Davidson, and he has only branched more and more throughout the decades. 
Davidson recognized a couple of OU faculty members who strongly impacted his work.
"Roger Marz, poli-sci prof. There also was a philosophy prof with OU's charter college. I think his name was Alfred Stranksy, who graduated from Carleton College," Davidson said. "I was so impressed with Marz. He never used any notes while providing cogent, informative, knowledgeable lectures and class presentations. Alfred, the philosophy professor, made me think and consider things outside my comfortable box. He was always open to talk with students."