Athletics looks forward to 50th year amidst Francis dismissal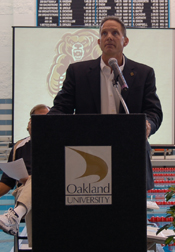 A poster hangs on Athletic Director Tracy Huth's office wall titled "Mission of Oakland Athletics." The "mission" is "to guide, encourage and support our Student-Athletes as they strive for excellence- academically, athletically and socially."
A similar manifesto, the Core Values of Oakland Athletics (see sidebar), also hangs nearby.
"If you look at … the mission of athletics and what our core values are …that's why we're here," Huth said. "We are going to provide that type of environment."
In the past two months, several former OU athletes have come forward following the termination of Beckie Francis to say they weren't respected while they were there.
As a result, the Oakland Athletics department has been cast under a black cloud, but Huth thinks the media are placing too much emphasis on the women's basketball team — given that Oakland is home to 18 Division I sports teams and over 300 student athletes.
Some say there's no such thing as bad public relations, but media outlets around the country – including ESPN and USA Today –   generated copy and video negatively portraying Oakland athletics as they attempted to figure out why Francis was fired and whether it was connected to the subsequent retirement of her husband, President Dr. Russi. 
"You and others want to focus on one particular element of one particular team," he said to this Oakland Post reporter. "That's not what we do here … people  need to look at this program a little bit more globally."
According to documents obtained through the Freedom of Information Act, Huth is bound by a nondisparagement clause to not speak negatively about Francis.
In the wake of the negative press, Huth, who made $146,458 last year, is looking forward.
"I think the number one thing is that [student-athletes] are permitted an environment in which they can achieve what they're here for: education, be able to participate at the highest level in athletics, and then also represent their institution at a high level," he said. "Those expectations are across the board, for our coaches, for our staff and our student athletes."
Huth says student athletes can talk to various people on campus if they have concerns: athletic administrators, faculty athletic representatives,  the general counsel's office or the dean of students.
"It really doesn't matter what program it is," Huth said. "Every student athlete is provided the opportunities … to talk to anyone within the department on any issues.
"I'm not here to reprimand or discipline, that's not my job. If I have to do it, I will. When a student athlete comes forward … we're absolutely going to look into it."
Former women's basketball player Jenna Bachrouche, who is one of several ex-Grizzlies that has come forward to share experiences of intimidation and discrimination, said she spoke to assistant coaches and Huth while she was there.
"He just apologized," Bachrouche said. "He said, 'Anything I can do to help you find another place.'"
Bachrouche left Oakland in 2012, following two seasons of play.
From 2008-2011 Huth gave Francis positive reviews: "Outsanding. Performance far exceeds job requirements."
But, Huth said performance reviews aren't "always a good indicator of what could be happening, whether it's positive or negative."
Reviews are based on objective goals set by the employee. For example, some of Francis' goals she wrote on her 2002-2003 Annual Goals sheet included "maintain a competitive Div. I program; increase fundraising and fan support; learn and participate in administrative meetings."
A Long Tradition
Oakland Athletics began in 1964 with men's soccer, cross country, tennis, and swimming and diving and now has 18 Division I sports and over 300 student-athletes. Huth called the almost-50-year tradition "impressive."
"There is nothing that tells us that that won't continue," he said. "We will continue to make sure that we provide everything that's necessary that our student athletes can participate at the highest level."
According to Huth, alumni have a great appreciation for their time as student athletes.
"What you hear from the alumni is that this experience basically took them to where they are today and what they are today," he said.
Huth has high hopes for the women's basketball team.
"Two or three years from now, my best guess is that [they] will be competing for Horizon league championships, competing to go to the NCAA tournament, [and] will still have a very high GPA," he said.
"There is much more upside to Oakland University than there is downside," he said. "There's a lot to be proud of, regardless of some of the blips that come across the radar."