On Sept. 20 and 21, Oakland University Advancement hosted Grateful Grizzlies Day in Oakland Center Gold Rooms A & B for students to express their appreciation to OU donors, faculty and alumni.
The event — the first of its kind — was held in accordance with World Gratitude Day, which took place on Sept. 21.
Students were able to express their appreciation for scholarships, programs, facilities and more through video messages, photographs and handwritten notes. The University Advancement team then matched the notes and videos with the donors of what the students expressed gratitude for.
Lea Herweyer, stewardship coordinator at Oakland University Advancement, said she wanted to provide students with a space to express their appreciation and get students thinking about the contributions that make their college experiences possible.
"Sometimes students don't understand how impactful donor dollars are on campus, and what they actually fund for students beyond scholarships with different programs or resources that normally aren't in the budget," she said.
"Donors believe in the success of our students, and they want to do all they can to help our students reach their highest potential," Herweyer added. "As often as they hear thank yous from our staff and leadership at OU, they really just want to hear from the people who matter most to them — the students. We wanted to give this opportunity to help make that connection for them."
Herweyer said she hopes University Advancement can continue hosting this event or something similar based on student feedback.
"We would love to continue doing it, and we want to evolve as we go to see what students really gravitate towards," she said. "[We're looking at] what gets the best reception from our students so that we can work with whatever they need."
Student Esha Tiwari wrote her note thanking the donors of the organizations and events hosted on campus.
"I just wrote a thank you note for the amount of clubs here. I really love the clubs here," Tiwari said. "I love the amount of what they do on campus, like how many events they have, and there's always more to do here.
"I want to make people feel that I'm thankful for them doing these kinds of things," Tiwari added. "If my friend does something nice for me, I would want to let them know that they're very nice for doing that."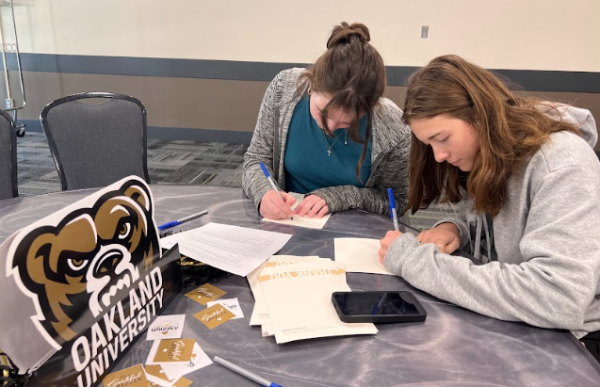 Elenore Friedsberg-Luft recently transferred to OU from Oakland Community College and wrote her thank you note to the individuals who made her transfer and acclimation with her new school possible.
"I'm very grateful for [the donors for] supporting my education," Friendsberg-Luft said. "In the first few weeks here, I have found a wonderful place that is so incredibly supportive of students, and it's a blessing.
"I feel secure and safe like I found where I'm supposed to be. And I'm really grateful to the people who have made this possible."
Any individuals who would like to give a thank you message can contact Herweyer at [email protected] to schedule an appointment.