With the new school year beginning and fall quickly approaching, students on Oakland University's campus are signaling this autumnal shift with their wardrobes. After weeks of uncomfortably scouring campus, I finally have some throughlines to present regarding students' sartorial choices.
As New York Fashion Week serendipitously coincided with OU's first week back, I made it my mission to see if the trends from this season's runway shows might have been reflected in the fashion choices of students on campus — whether consciously or subconsciously.
One of the major waves among this year's designers dealt with playing with contrast — with black and white being a dominant colorway across many fashion houses. Designers like Tanner Fletcher, Gabriella Hearst, Brandon Maxwell, Dion Lee and more debuted collections largely consisting of black and white looks.
"I'm interested in experimenting in androgynous styles, like mixing more masculine pieces with feminine. It's all about balance," junior Lin Grib said.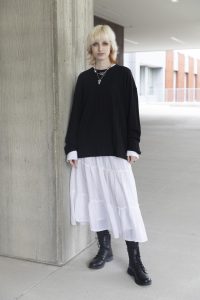 Grib's choice to layer a slightly oversized black sweater over a more light and airy tiered white skirt is a prime example of mixing contrasting pieces, with her choice to pair the look with dark combat boots adding even more dimension to the outfit.
While moto and biker style boots have already taken over street style looks, Grib's pairing of more masculine boots with a more feminine skirt is especially reminiscent of Dion Lee, whose collection paired black chunky knee high-boots with almost every look.
While continuing this line of black and white contrasting pieces, New York Fashion Week also embraced a sense of femininity on the runway, with playfully placed ribbons and bows becoming a common decorative choice by designers.
"A common thread with my outfits is that they are all very feminine. Skirts are, by far, my most worn clothing item," sophomore Thy Hoang said.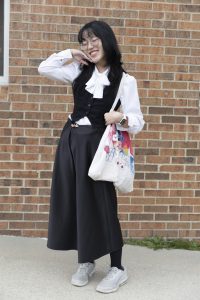 Hoang's long black satin skirt, white blouse and black vest were elevated by details like a large flouncy bow tied around her neck and a gilded broach clasping her skirt together. 
This play on mixing workwear-type pieces with more feminine pieces was a common theme in Tanner Fletcher's Spring 2024 Ready-to-Wear collection, with Hoang's bow-adorned blouse having the same essence as Sandy Liang's distinctive bow motif.
"I would say that I am most inspired by styles popular in Asia. The styles are usually very young and girlish and playful, which is not as celebrated in the U.S.," Hoang said.
While New York Fashion Week's runway collections can be a great touchstone for predicting and recognizing trends, the street style exhibited by those leaving the shows is arguably just as important.
"For many of my outfits I wear I'm very inspired by hip-hop dance. Sorta like New York streetwear," senior Amon Orr said.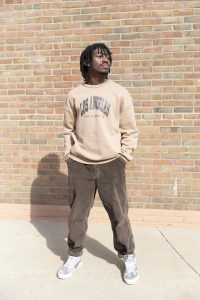 When observing the street style of New York Fashion Week, Harper's Bazaar's Fashion Commerce Editor Halie LeSavage observed "a preference for chocolate, camel and espresso tones."
Orr's choice to juxtapose the richer chocolate brown color of his corduroy pants with the lighter tan color of his crew neck was a unique play on more traditional monochromatism.
This juxtaposition can also be displayed in terms of silhouettes, with younger generations often pulling from decades of the past to achieve their style.
"I'm mainly influenced by 1960s and 1970s rock, like John Lennon and David Bowie. I like to mix tight shirts and flare pants, mixing proportions," freshman Dakota Malott said.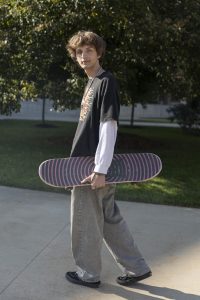 Even with Malott's more 90s-inspired skater look — with layered shirts and baggy pants — his affinity for mixing proportions shines through. 
"I mainly get my clothes thrifted. I thrift jewelry from antique stores, and I try to look for some good Penny Lane coats," Malott said.
This is where the most overarching fashion "trend" among younger generations becomes clear — an appreciation for vintage. Thrifting has allowed people to combine style inspirations from the many different decades of their nostalgic desires, resulting in the formation of a unique personal style — one that truly transcends any seasonal trend cycle of today.