Oakland University's 2023-2024 academic year was ushered in on Sept. 5 with the New Student Convocation, academic open houses and the launch of Welcome Week.
The events started at 1 p.m. in the OU Credit Union O'Rena with the New Student Convocation. The theme of 2023's convocation was "Living Our Best Lives."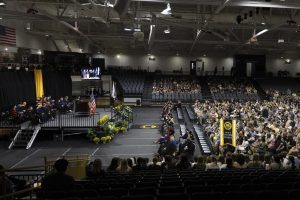 Students sat with others in their major as OU sophomore Cailey Powell welcomed them to campus.
"I have thoroughly enjoyed my time at OU," Powell said. "I have taken advantage of many opportunities that I wouldn't have ever thought of…I hope today's event will inspire you to make the most of your OU experience."
After singing OU's fight song, OU President Ora Hirsch Pescovitz expressed her excitement for the new campus community members and what lies ahead of them.
"College teaches you not just academics," Pescovitz said. "It teaches you how to learn, how to be open to new ideas, how to be open to new experiences, how to be open to new cultures, and I hope how to be open to new people and new ways of looking at the world.
"You've arrived now in a new chapter of your life. This is a crossroad. You are a part of a brand-new community. And we want you to remember that from this day forward, our hands are extended to you."
Senior James Mitchell reflected on his experiences in his time at OU.
"I know you may be wondering — why did I choose OU? As incoming students, you may be asking yourself the same thing," Mitchell said. "But the truth is, I didn't choose OU — OU chose me.
"From this day forward, always remember to keep your head up, no matter what life throws at you," Mitchell added. "Remember to keep a smile on your face because on OU's campus — we are here, living our best lives."
Immediately following convocation, academic open houses were held throughout campus. Students were introduced to the variety of majors and minors available, organizations relevant to their field of study, faculty in their college and fellow students.
Students played a get-to-know-you bingo at the School of Business Administration's open house, where they had to find a classmate who fulfilled certain traits in the bingo squares. The faculty in the school also spoke to the students about what they could expect.
Finally, the official launch of OU's annual Welcome Week kicked off at Elliott Tower with free ice cream, presentations from student organizations and music courtesy of WXOU.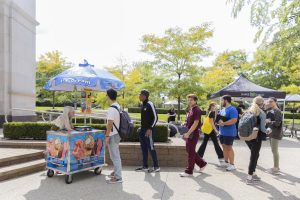 OU freshmen expressed their excitement for what lies ahead.
"I'm definitely looking to meet new people and [have] way more experiences," said Matilda Wagner. "In high school, it's not really like college — you have a lot more responsibilities and a lot more freedom. It gives you the opportunity to do what you want to do."
"Today, I got a lot of experience and a lot of information," said Gabriella LoRe. "It's a little overwhelming, but it's definitely exciting, and I'm looking forward to getting to class, getting into routine and finding all the new student programs that are going on."
The full list of Welcome Week events can be found here. The festivities will continue through Saturday, Sept. 16.