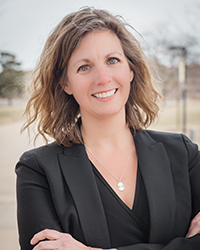 Dr. Elisabeth Hoegberg was filled with nervous excitement when she first saw the position of Director of the School of Music, Theatre and Dance (SMTD) was open at Oakland University. Although the teaching profession has her heart, Hoegberg knew a collegiate administrative position would open doors for herself and, more importantly, the students she will be watching over. 
After careful consideration, Hoegberg worked meticulously on her application. The former University of Indianapolis professor spent ample time polishing her lengthy resume.
Hoegberg began her studies at Illinois State University, earning a Bachelor's in Music History and Piano. She then earned her Ph.D. in Music Theory and M.A. in Musicology from Indiana University.
"After completing my studies, I was an assistant professor of music at the University of Indianapolis," Hoegberg said. "While there, I taught music theory, which is essentially the language of music."
Hoegberg was selected to serve as chair of the Department of Music at the University of Indianapolis in 2018. She later served as chair of the Theatre Department there as well.
These teaching and managerial positions strengthened Hoegberg's affinity for educating college students.
"The positions I held at the University of Indianapolis made me feel like I was part of every student's educational and professional journey," Hoegberg said.
Hoegberg's experience as a professional pianist is a standout aspect of her involvement in the art field.
"I began playing piano when I was 5 or 6 years old," Hoegberg said. "It was — and still is — a great way for me to express my emotions."
After applying to the SMTD Director position, Hoegberg was invited to Michigan to tour OU. When Hoegberg first visited campus in the summer of 2023, Varner Hall — her potential future workspace — was under construction. 
The renovation of Varner Hall left entrances closed, sidewalks blocked and classrooms in disarray. Yet, despite the construction, Hoegberg felt instantly at home when she entered the building.
"There was great energy on campus," Hoegberg said. "I could tell there was a lot of potential to grow the SMTD programs at OU."
When she learned she would be the new Director of SMTD, Hoegberg was elated. 
"When interacting with the public, I could tell Michiganders have great pride for their state," Hoegberg said. "So I was very excited to move to the Metro-Detroit area."
Hoegberg enters the position with a bit of apprehension, recognizing it could be difficult to be the representative of so many people.
"There are so many acronyms and administrative matters I need to learn," Hoegberg said. "It's really like going back to school."
When asked what she's looking forward to for her first year as the SMTD Director, Hoegberg said she is most excited about meeting and interacting with students and staff members.
"My door is always open," Hoegberg said. "I look forward to meeting MTD students this semester and working with others to grow the school's programs."
To learn more about Director Hoegberg, visit her faculty page. To contact Hoegberg directly, email [email protected].