When Amanda Greene was planning her May 19 wedding, she knew who to invite as the perfect surprise for her now-husband, Sean Greene — the mascot of the university where they met.
The pair's reception was marked by a special guest appearance from Grizz. For both, OU became a place where their lives changed — something Amanda wanted to honor.
"I thought it was so special that we both went to Oakland," Amanda said. "I got really lucky. It was only a week or maybe two weeks before the wedding that I started looking [to invite Grizz] — I called the Friday before the wedding, and they got back to me on Monday."
"I wasn't expecting it at all — I was super happy," Sean said. "That's where we met and grew a friendship before anything else, and OU was a big part of our lives."
While the pair were in a relationship for two years before tying the knot, their friendship came first through their shared love of teaching.
"When I was a little girl, I always loved my teachers, and I can specifically remember that I would go back-to-school shopping and get so excited," Amanda said.
"Almost every job I've had in my life has had a teaching aspect," Sean said. "When everyone asked, 'What do you want to do in the future?' I said, 'Well, I'm good at math and I like helping teach.' You put two-and-two together and you get a math teacher — and I love it."
The two were both students at OU's School of Education and Human Services, a program, Sean said, was tight-knit.
"When you get in the teaching program, you pretty much have all the same classes together," Sean said. "I met her in one class and we [became] friends, and then we had all the other classes together. She couldn't get away from me, and I couldn't get away from her."
Their initial meeting took place on the first day of their shared social studies methods course. Amanda recalls sitting at an empty table, thinking she was the last student to arrive and would have the space to herself. Instead, Sean walked in and sat next to her.
Amanda said she knew even before they spoke that there was something special.
"Since I met him, I kind of just knew something about him," Amanda said.
One of the stand-out memories of that class that sparked their friendship, Sean said, was Amanda's interesting snack choice.
"She got out a banana and started eating it with a spoon," he said. "I looked over and was like, 'What in the world is this? What are you doing next to me, eating a banana with a spoon?'
"I must've said something too loud," he added. "Our professor saw it, stopped the entire class — she got a little embarrassed, and after that, that's when we started talking."
From then on, the two grew close. They graduated in Dec. 2019, sitting side-by-side at the ceremony. In 2021, the two had their first date just after Valentine's Day and got engaged on Christmas Day of the same year.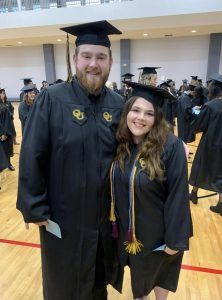 Now, they continue to share their love of teaching together — they both work within the Pontiac City School District. Amanda teaches 3rd-grade students and Sean teaches 8th-grade students.
Previously, the two worked in different cities, and the change in proximity is welcome.
"It's less stressful working in the same district together," Sean said. "She used to work in Detroit and I worked in Pontiac — I'd have to wait an hour to two hours for her to get home."
Now, [we work] pretty much down the street from our home that we just bought, and it gives us more time for us."
Overall, the couple looks forward to spending the time they can together.
"It's like I get to have a 24/7 sleepover with my best friend," Amanda said.