Music is for one and all, and while not everyone can be familiar with every instrument or genre, there are always opportunities to discover new music and learn their history.
Oakland University has been hosting its Six Fridays at 6 Summer Carillon Concert Series at Elliott Tower again this year with a diverse lineup and expected sunshine. 
The carillon resembles the piano and organ — though the instrument has its own legacy. The carillon's bells can produce a wide range of notes, allowing the carillonneur to play many songs. Elliott Tower's carillon weighs over 30,000 pounds. 
OU's resident carillonneur, Dennis Curry, will perform the final concert in the series on Aug. 11.
"I like to play a variety of music that the variety of audience would appreciate," Curry said. "You want to try to appeal to a wide audience." 
Curry grew up in Ohio and began his journey to being a carillonneur by playing the piano. While studying at Indiana University, he found his love for the organ, which continued until his move to Michigan, where he met Dr. Frederick Marriott. 
"Kirk in the Hills in Bloomfield Hills had the world's largest carillon with 77 bells," he said. "It was there I was introduced and offered to study the carillon there with Dr. Frederick Marriott, who was in his 80s at that point but still climbing towers."
While previous performers — such as Katarzyna Piastowska from Germany — played many foreign classical pieces by composers such as Frédéric Chopin and Andrzej Kurylewicz, she also included American folk songs such as "Swanee" as well as an original composition.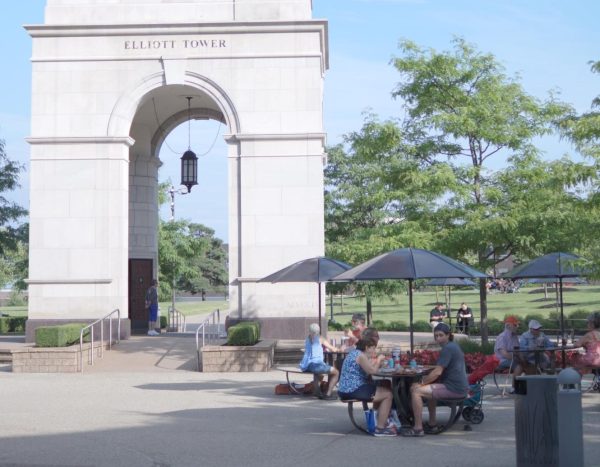 The sounds of the bells can draw in a crowd. A wide range of people — some of whom have always enjoyed the carillon and others who simply want to get out of the house — stumble upon this outdoor concert. 
"It's a good social distancing activity, and they advertise it out on the marquee on Watson and Adams," Curry said. "Dr. Pescovitz was there, and she comes out and is amazed by how many outsiders [are present]. It isn't just the local community — it's people that she recognizes and others she doesn't, and that's great."
With summer ending, students are encouraged to invite their friends and bring some lawn chairs to join in on this free, on-campus musical evening. The final two concerts will occur at 6 p.m. on Aug. 4 with a performance by Andrea McCrady from Ottawa, Ontario, and on Aug. 11 with Dennis Curry at Elliott Tower.