Men's Soccer Team Beats IUPUI 2-0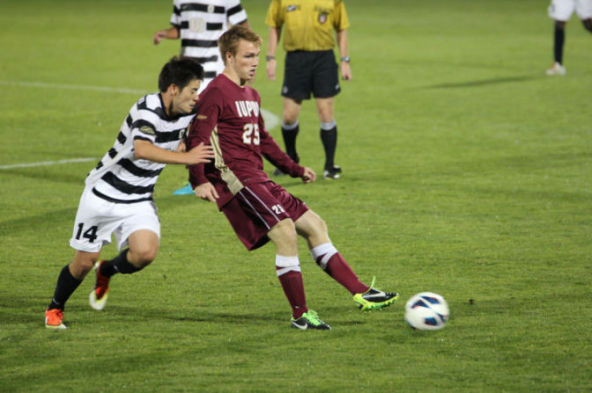 Oakland University's men's soccer team scored two close goals against IUPUI, winning an easy 2-0 victory Wed, Sept. 18th.
The Grizzlies started the game taking seven early shots on the opposing goalie, earning themselves a goal in the last eight minutes of the half.
"The first half we got a bit disconnected," Joey Tinnion, the junior at OU who scored the opening shot, said. "I'd press, and then they're be a gap behind me. Second half the coach told me 'just delay!' Then we went out wide, and got a lot more for it."
The Grizzlies went on to take another 15 shots on the goalie, ending the game with an accumulated 22-5 shot advantage.
The second score came from Senior Michel'e Lipari at the 63-minute mark, letting the Grizzlies end their game with a two-goal advantage.
"I was pleased overall with the effort tonight," coach Eric Pogue said. "I thought we were good in the first half, then really put our foot on the pedal the second half."
Looking toward the next match again Michigan State University, Pogue had faith in the quality of his team, and knows that they can stake up against a major university.
"We gauge ourselves as a similar team to them. Even thought they're a big name school and a big name conference, we know we're a top field soccer team as well. We expect to be on the field, expect to compete and expect to win."
Oakland's next match will be against the Michigan Wolverines Wednesday, Sept. 25th.