Pete Hovland: A career to remember
A typical career lasts about 40 years.
Oakland University Swimming and Diving Head Coach Pete Hovland's career lasted just about that long — 44 years, to be exact — but it was anything but typical. It was extraordinary, actually.
Hovland's coaching career was one of incredible amounts of success. His first two seasons at Oakland (1979-81) were spent as the women's head coach and the men's assistant coach.
In 1981, he gave up his duties as the women's coach to take over as head coach of the men's team. The men's swimming and diving team has won 45 consecutive conference championships, meaning Hovland never lost as head coach of the men's team.
Hovland recouped his duties as the women's head coach in 2001, and the women's team also never lost a match during Hovland's second stint of tutelage.
Hovland recalls things looking much different when he first arrived on campus in 1979 than they do now.
"The university in 1979 isn't anything like it is today," Hovland said. "My alums from way back then, in the early '80s, that have come back to campus for the first time can't even find their way around."
Hovland shared a story about when he first came to Oakland back in 1979, after completing his graduate work at the University of Northern Iowa.
"The day I drove from Iowa to Michigan — I got to Woodward and Square Lake, and there was a gas station there," Hovland said. "I pulled into the gas station, asked the guy, 'do you know where Oakland University is?'"
Hovland said the man replied, "'No. I think I've heard of it once or twice, but I think if you go over here and go up I-75 a little ways, you might run into it.'"
Now, though, Oakland University is exponentially larger than it was back in the late '70s, and local residents have a better understanding of where the school is located, too.
Hovland has had an opportunity to grow alongside the school for 44 years, and he said it's been a really cool experience.
"It's been a wonderful experience," Hovland said. "I wouldn't do anything different, if given the opportunity. I had opportunities over my career to maybe move and change positions, [but I chose] to grow with the university — a small, Division II program trying to find its place in the world of the NCAA, able to grow with the program and build a program."
Just as he originally hoped, Hovland has grown with the program over the years. Although there isn't much room for improvement when your team is winning championship after championship, Hovland has kept his teams consistently at the top of the conference for the entirety of his tenure.
That doesn't mean there haven't been some close calls, though. In fact, this year's Horizon League Championships came down to the final day, and the pressure was on the Golden Grizzly swimmers.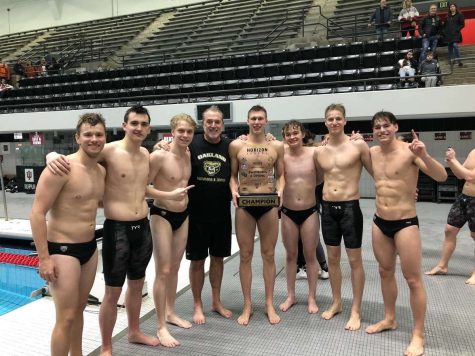 The Oakland men were trailing IUPUI heading into the fourth and final day of the Championships, and the 44-year streak was on the line. 
Hovland had already announced the 2022-23 season would be his last, which put many of his career streaks in danger on the final day of the meet. Although Hovland called his worries about his streak "human nature," he was quick to assure the bulk of his worries were elsewhere.
"[I was] kind of more worried about my athletes," Hovland said. "I hope it's not them [who end the streak], because I don't want to have them carry that burden around with them. But it's going to happen soon. It's going to be somebody."
"I felt bad that way," Hovland said. "Personally, hey, a lot of accolades have come my way, and I've had a chance to work with some really great athletes and stuff, and so my cup's overfilled."
The streak wasn't meant to end this year, though, as Hovland's group stormed back on the fourth day to steal the league title from IUPUI.
A legendary career ended in dramatic fashion for Pete Hovland.