Taylor Swift's Eras Tour is making me 'Red'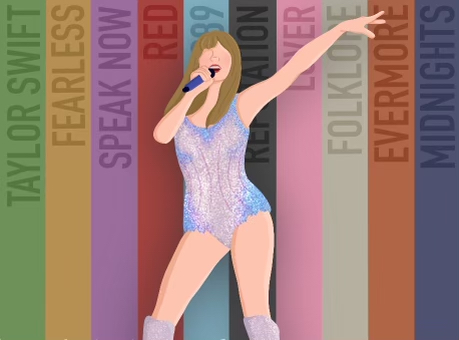 Attention, all Swifties — Taylor Swift's anticipated Eras Tour is finally upon us. After five long years of waiting, our concert queen is back.
Did I get tickets? No. Will I be stalking every social media app for content? You bet I think about it.  
Loverfest was canceled at the start of the pandemic. Because of that, it was only fitting Swift opened the Eras tour with her "Lover" album.
I didn't expect her to open with one of her more recent albums. I honestly expected Taylor to open with her self-titled debut album or "Fearless." I'm personally glad she opened with "Lover" — "Miss Americana and the Heartbreak Prince" is one of my favorite songs of hers. 
With all of the new music we've gotten from Swift since her last tour, not to mention her extensive catalog, many fans have been speculating which songs she'd perform. Now, we've got a seriously packed set list — the concerts are capped at a whopping three hours long. 
I'm going to start with discussing her part of the show from my favorite album, "Reputation." Swift looks like she never left her "Reputation" era — that black suit with the red looks amazing.
Her energy when performing anything from "Reputation" makes you want to get up and dance. "Don't Blame Me" is one of the "Reputation" songs I was begging for her to perform, and I got my wish. 
"Midnights," being the most recent album, hasn't been performed live yet. From that album, "Anti-Hero" was a must for me. To not only get that, but also "Vigilante Shit" (with huge Cell Block Tango vibes), "Bejeweled" and "Karma" is top tier. All of my favorites are on the set list, and I'm loving it. 
"Blank Space" from her "1989" album is one of my favorite all-time Swift songs. I was really glad to see that on the setlist. 
"You Belong With Me" from "Fearless" can never be taken off the set list. It's such a nostalgic song that she should always perform live — and of course, she is. 
Can we talk about the costumes? The costume department was on point with this tour. Going through so many eras with different costumes, and they made her look unbelievable.
You can tell what album she's about to perform based on the costume she's wearing. My personal favorites are the "Speak Now" gown from night two and the "Midnights" dress.
"Folklore" and "Evermore" deserve to be heard live. Those two albums feature some of Swift's best work, and they're fictional albums. It's so cool to see them — especially Evermore — get the live performance treatment they deserve.
I'm really excited that people are doing live streams online. The next few months of tour content are going to be pandemonium for all Swift fans, and I can't wait to see what she has planned for the future shows.