Riley Keough's sensational 'Daisy Jones & The Six' reaches finale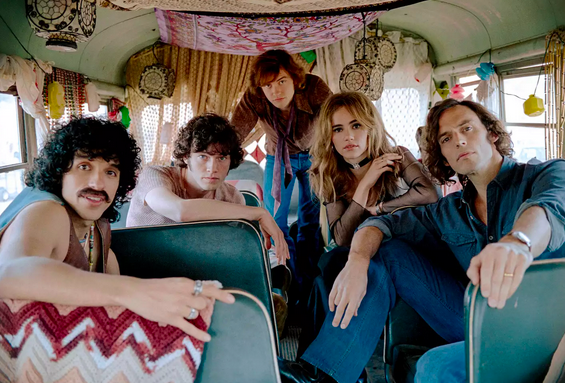 This month welcomed the release of Amazon's highly anticipated series "Daisy Jones & The Six," a ten-episode adaptation of Taylor Jenkins Reid's 2019 New York Times bestselling novel of the same name.
The story travels back and forth through time while chronicling the mysterious rise and fall of a fictional 1970s rock band.
Riley Keough leads the series as the titular Daisy Jones with her fiery red hair and bewitching tenacity — ultimately showing why she deservingly holds the status of Nepo-Baby Royalty as the real life granddaughter of Elvis Presley.
Sam Claflin stars opposite Keough as complicated lead musician Billy Dunne — also showing why he has earned the title of Book Adaptation King. From "The Hunger Games: Catching Fire" to "Love, Rosie" to "Me Before You," it is obvious that if you want a good book-to-screen adaptation, you need to cast Claflin.
Speaking of "Love, Rosie," Suki Waterhouse reunites with Claflin in the series as cool keyboardist Karen Sirko — the only woman in the original Dunne Brothers band. This is oddly enough the second time Waterhouse has starred alongside Claflin in a story where he is painfully in forbidden love with someone other than his wife — a plot I will always welcome with open arms, because of Claflin's unrivaled ability to look pathetically in love.
Waterhouse is also the perfect choice for this project — and, really, anything 70s inspired — as evidenced by her wonderfully retro street style and real-life budding rockstar career.
And finally, Camila Morrone stars as fellow Camila, Camila Dunne — the wife of Billy Dunne and arguably the heart of the series. From the eight episodes I have watched so far, Morrone has truly proven herself to be a heartbreaking actress, and I am so happy that Twitter will now finally associate her with something other than Leonardo DiCaprio.
Also starring as band members of Daisy Jones & The Six are Will Harrison, Sebastian Chacon and Josh Whitehouse — all of whom have truly transformed themselves into their charismatic 70s characters from the beloved novel.
In a delightfully creative twist, the cast also transformed Daisy Jones & The Six's fictional album "Aurora" into a real recorded album available for fans to stream, with Keough and Claflin leading vocals with help from artists like Blake Mills, Phoebe Bridgers and Marcus Mumford.
Eight episodes of "Daisy Jones & The Six" are currently available to stream on Amazon Prime Video, with the final episodes nine and ten releasing Thursday, March 23 at 8 p.m. EST.
If you have not already been rapidly consuming each episode as soon as they are released — and then immediately watching TikTok edits of the very same material you witnessed just minutes before, except this time with a Taylor Swift song in the background — do not fret! You have, like, a solid day to binge watch in time for the finale tomorrow night.
The show is truly a work of art — I am blissfully unaware of the book-to-film changes, so do not come at me, book truthers. But nonetheless, the most important thing I have learned by watching thus far is that I am apparently a sucker for hot, talented people creating morally questionable messes while adorned in 70s garb — enjoy!