Info on active shooter protocols following MSU shooting
Oakland University students Emma Garrett and Red Douglas have worked in conjunction with the Oakland University Police Department (OUPD) as well as Student Congress (OUSC) to increase the awareness of Active Shooter protocols. In light of the event which took place at Michigan State (MSU) on Feb. 13, they feel it is imperative the campus community understands these procedures.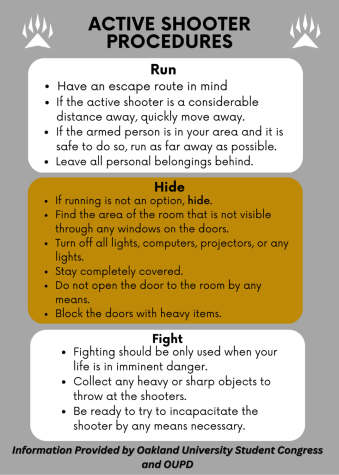 "Simply knowing we have safety protocols for active shooter scenarios, and the various ways individuals, departments and the entire campus community can prepare for such events, may help to relieve anxiety," Douglas said.
The first infographic helps further explain the run, hide and fight tactic that is commonly used during scenarios where there is an active shooter. The Active Shooter page on OUPD's website offers more information, as well as a realistic video demonstrating the procedures in a simulated scenario.
A trigger warning is advised for the video, as there are depictions of gun violence and blood.
The second infographic looks at the ways people can try to be prepared for situations like this. It touches on registering for emergency alerts, scanning for exits wherever you go and having conversations with others to best strategize ways to stay safe.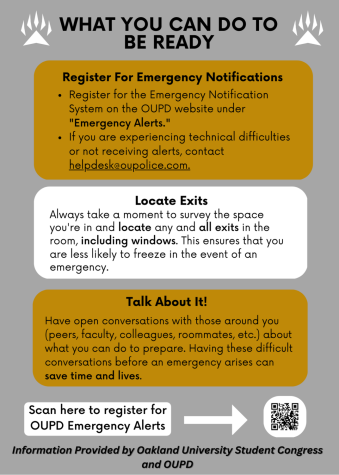 In addition to the infographics, Garrett and Douglas are working on creating and sending out an email to faculty about resources available on campus. In the memo, they stated recent conversations with the OU community showed a lack of knowledge regarding resources and tools available.
The memo discusses strategies at the micro, meso and macro levels, but will likely be revised following the MSU incident. Strategies for each include developing individual plans, department and program-created plans and the university making resources easily attainable.
OU has multiple resources for those seeking help, whether affected by this directly or indirectly. Of these resources, OU has two counseling centers — the OU Counseling Center (OUCC) housed in Graham Health Center and the School of Education and Human Services (SEHS) Counseling Center located in Pawley Hall.
Currently, the OUCC offers four free sessions followed by a $20 copay for future sessions. The SEHS Counseling Center is free for students and is run by graduate students in the counseling program.
There are many outside resources available, as well, such as Common Ground and Headspace, which are more Michigan-oriented. There is also the nationwide mental health hotline, which can be reached by calling 988.