Paris Haute Couture Fashion Week: A breakdown
Monday, Jan. 23 to Thursday, Jan. 26 marked one of my most highly anticipated weeks of the fashion calendar: Paris Haute Couture Fashion Week.
Unlike other fashion seasons, Haute Couture Week showcases the highest quality of fashion. It is a time for fashion houses to create custom-fitted, handmade, extremely detailed and oftentimes avant-garde looks.
Personally, the show I was looking forward to the most was Schiaparelli — coincidentally, the very first show of the week. Daniel Roseberry took over as creative director of the house in 2019 and has since become known for pulling inspiration from founder Elsa Schiaparelli's archives — an investigative game I am always up for.
This year's collection was entitled "Inferno" — directly inspired by the first part of 14th century Italian poet Dante Alighieri's epic poem collection "Divine Comedy." Roseberry created three looks for each of the nine circles of hell depicted in Dante's "Inferno" by playing with the concept of Surrealism. 
Molded leather, wooden beads, pearls, gold accents and hand patinated copper allowed Roseberry to play into that feeling of Surrealism Schiaparelli is known for. There were earrings that resembled casts of faces, shoes that seemingly molded around the models' toes and golden keyhole motifs scattered on almost every garment.
The most eye-catching looks, however, were the hyper-realistic faux-taxidermy representations of Dante's lion, leopard and she-wolf. The animals were constructed by hand with entirely manmade materials, but took the internet by storm, nonetheless. Kylie Jenner even wore her own lion dress while sitting in the front row.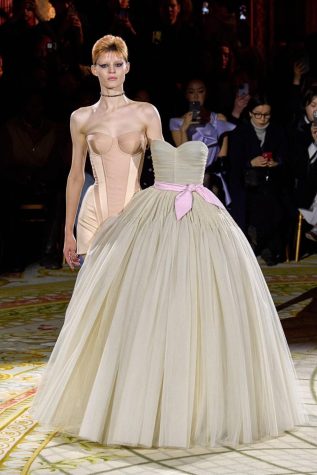 Another fashion house that played with the unconventional was Viktor & Rolf. While they released an entire collection of nearly identical pastel ball gowns, their presentation is what moved the collection into the absurd.
While the first garments appeared completely normal, the surprise came when gowns started to seemingly float next to the models, extend directly through the models at 90 degree angles and even hang completely upside down. The show evoked a nostalgic feeling of those magnetic dress up dolls from my childhood in a shockingly elevated way.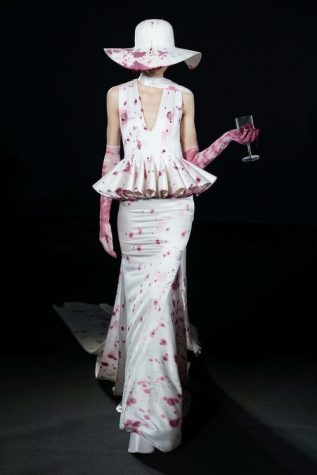 The final collection I feel needs to be mentioned is Robert Wun's couture debut, as it truly showcased the mastery of a craft. The collection — entitled "Fear" — played off of typical "fashion accidents," with wine-stained and scorched dresses, rainy umbrellas and broken heels. The impressive twist, however, was Wun's intricate use of beading and embroidery to depict these situations.
Hanging beads resembled dripping water and hundreds of lightly placed sprigs of feathers gently bounced as the models moved down the runway. The show felt like a genuine performance, rather than a boring display of materialism, which was a welcomed breath of fresh air compared to so many highly-revered fashion houses that failed to deliver this year — I'm looking at you, Chanel.