Meadow Brook Theatre celebrates 40th anniversary of 'A Christmas Carol'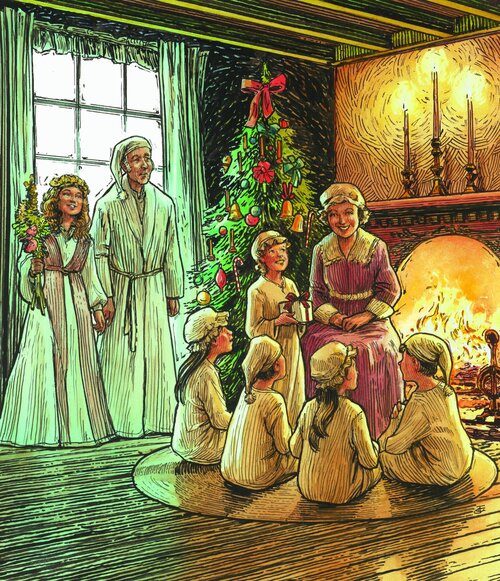 Meadow Brook Theatre's (MBT) annual rendition of Charles Dickens's "A Christmas Carol" is back for another year of Christmas cheer. Some local theater-goers see this show every year, but it wasn't until now that I personally had the pleasure of experiencing MBT's holiday magic.
The classic tale follows Ebeneezer Scrooge (Thomas D. Mahard), an old, stingy man who hates Christmas, as he is approached by the Spirits of Christmas Past (Mary Magyari), Present (Tamara Della Anderson) and Future (Tyler Bolda). Together, they show Scrooge the true meaning of Christmas.
It's no wonder why MBT has been putting on this show since 1982 — even though it was written in 1843, I think the heart of the story transcends time. If you don't believe me, the audience speaks for itself: folks young and old flock to see this story get told. This just goes to show that old stories don't die out.
In fact, the show in its most classic form has the audience's hearts, according to Meadow Brook intern Antonio Vettraino.
"There have been years [early on] where the show has changed," Vettraino said. "What was interesting was that [those changes] didn't resonate with audiences as well as the original, which is what we do now."
The only variance from tradition we see on stage this year involves choice in casting. Typically, the Spirit of Christmas Present is played by a white man, but this year the role is taken up by a woman of color for the first time since the 1990s.
MBT's "A Christmas Carol" is an uplifting story that reminds us about the joy of community in a world that has felt so alone. This show does a wonderful job at bringing the community together during the happiest season of all.
As a first time viewer, I can certainly say that MBT knows what works. "A Christmas Carol" is not just a show, but an experience complete with interactive carols and a warm, welcoming atmosphere.
"We truly love 'A Christmas Carol,'" MBT Managing Director Cheryl Marshall said. "We're happy to be presenting it for the 40th year, and look forward to seeing familiar faces both on stage and in the audience."
Ticket prices range from $36 to $49 and are available to purchase by calling the Meadow Brook Theatre box office at 248-377-3300 or going online at www.ticketmaster.com. Student prices are available at the box office if ID is provided. For additional information, visit www.mbtheatre.com.