Positive Space: Director, actress Olivia Kiefer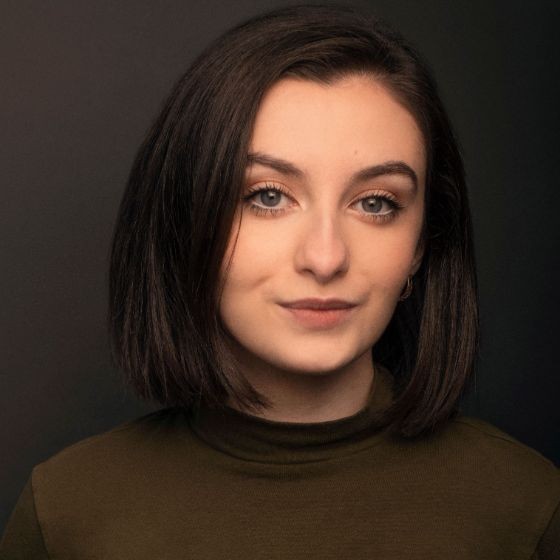 Olivia Kiefer, senior acting major, spent her recess days organizing little plays on school playgrounds and making home movies with her sisters. This childhood passion came to fruition in her adulthood when, just this past weekend, she wrapped up her directorial debut with advanced directing project, "Pizza Man."
Kiefer is a transfer student from Michigan State University (MSU). After discovering MSU lacked directing classes, she transferred to OU in pursuit of a goal to direct a full-length play.
"I've wanted to [direct] since high school, […] so when I got to college, I made it a goal to direct a piece," Kiefer said. "[…] When I went [to MSU], I asked if there was a directing course and they said, 'not until your senior year.' And I said, 'That's no good for me.' So, I decided to switch to coming here."
Aside from directing, Kiefer has been a part of shows both within and beyond her department's curricula, including Shakespeare Royal Oak's "Romeo and Juliet" and SMTD's "Sense and Sensibility." Her favorite project this far in her career, however, has been the theatre department's study abroad production of "Trojan Women."
Given Kiefer's credentials, it goes without saying — she's a fan of the classics. 
Classic literature typically receives moans and groans from the general public, but for Kiefer and other appreciators, the genre offers messages that force us to question whether the classics really are all that "classic."
"I think there's a lot to be said about going back and revisiting the classics and learning from history and old stories that still apply to today," Kiefer said, "going back and seeing how these morals and ideas and messages have really been fixed since the time that they were written."
Another common thread in Kiefer's interests are good, grounded stories about women, which are hard to come by. Stories about women have a tendency to be superficial and stereotypical in such a way that downplays the weight of the story itself. Crucially, stories which defy the norm are those which Kiefer is especially interested in bringing to light.
"[Another thing] I enjoy working on are pieces that have an ensemble of women going through very human and worldly problems – problems that are very grounded and serious," Kiefer said. "Not so much romantic or head problems, but things that are very immediate and earthly."
Take her most recent work, "Pizza Man," for example: while it is a dark comedy about assault and the female experience, it also brings forth a broader conversation about the temper of the everyday person. Even though the story itself is a little campy and wild, it has a lesson spoken through the lens of a woman about what results from the troubles and hardships we must endure in our day to day.
"This piece teaches a lesson that is so important in this day and age, […] focusing on the idea that the society that we've built has beaten out empathy in the everyday person," Kiefer said.
This element of "Pizza Man" that Kiefer finds so significant can be thought of, in some ways, as an exploration of the female dilemma — or the idea that women feel pressured to be put into a box and act within those bounds.
Kiefer said the female dilemma will sometimes impede on her own craft as she struggles with second-guessing herself. However, this issue of self-doubt evaporates when she has the opportunity to portray farce characters.
"I've always wanted to be a character actor, mainly because it [is like] a form of therapy," Kiefer said. "You can reach points of yourself that you don't normally access on a day-to-day basis when you're playing a character."
One actress she looks up to for this style of acting is Helena Bonham Carter. When it comes to directing, however, Kiefer turns to the people she's worked with — namely, the director of Shakespeare Royal Oak's "Romeo and Juliet," Stephanie Buck.
What Kiefer appreciates in a creative workspace is collaboration, something she felt Buck excelled at. For Kiefer, collaboration opens up a story to a broader audience — especially in the case of classical theatre, where audiences have a tendency to get lost in translation.
At the end of the day, Kiefer believes it's important to stay humble. It is through a sort of modesty – listening to others, collaborating to share important stories – which allows genius to happen.