'My Policeman': A tragically relevant period piece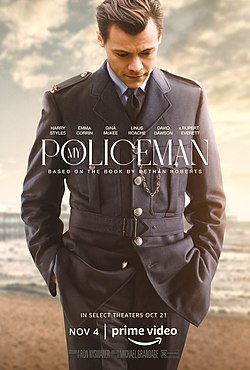 It was 7:58 p.m. on a Thursday and I was dissociating in a Panera Bread when I got the Twitter notification: "It's out in 2 minutes." I had no idea what the "it" in question was, but with one click my night was changed. 
Imagine my surprise when I saw the entirety of Harry Styles stan Twitter freaking out because his new movie "My Policeman" was about to drop on Prime Video at 8 p.m. I was shocked.
The film originally premiered in select theaters on Oct. 21, but I decided I was going to wait until it was released on Prime Video in lieu of going to the theater, because I knew I could not handle watching it in public. 
From what I read online about the tragic love story at its center, I knew this was going to be a bury-myself-in-blankets-in-the-comfort-of-my-own-home type of movie. I was preparing for my inevitable emotional breakdown — and right I was for that. 
"A tale of forbidden romance and changing social conventions, "My Policeman" follows the relationships between three people — policeman Tom (Styles/Linus Roache), teacher Marion (Emma Corrin/Gina McKee) and museum curator Patrick (David Dawson/Rupert Everett) — and their emotional journey spanning decades," the film's official synopsis said.
Obviously, the thing that first introduced me to this film when it went into production was the fact that Styles was going to be in it — given that I am a well-documented fan — but the other casting choices also really piqued my interest.
I was so taken by Corrin's portrayal of Princess Diana in season four of "The Crown"— which earned them a Golden Globe — and was very intrigued at the thought of seeing them grace my screen once again.
I also knew Dawson from "The Last Kingdom"— unlike most Styles fans, given their initial reactions on Twitter when his casting was announced — and was so excited to see him play Styles' love interest. Now that the film is out and Styles fans are making fan accounts for him, I just want to say: I was there first.
Another fun casting surprise was to see the inclusion of two of my favorites from the Julia Roberts rom-com universe — Gina McKee ("Notting Hill") and Rupert Everett ("My Best Friend's Wedding"). This film, however, had the opposite of Roberts rom-com vibes.
Styles had previously talked a lot about how this film explores the tragedy of wasted time, and that is truly the best way to sum it up — with the narrative structure of the film flashing back and forth between the 1950s and the 1990s expertly heightening the devastating nature of a love lost due to outside forces.
But while this film was set in the 1950s, director Michael Grandage expressed the importance of telling this story today, when we are at risk of returning to those societal confines everyday.
"The world is at a very fragile place with gay politics generally," Grandage said in an interview with Film Companion. "I have watched a fantastic advancement in England, since 1957, over my lifetime. But I also think we're in a very fragile period in America and in England, where people want to discuss once again whether gay marriage is a good idea,"
When promoting this film, Grandage emphasized how he hoped this story would serve as a reminder for younger generations to keep fighting for LGBTQ+ rights and hopefully foster a sense of hope for the future — something that feels very topical right now.
★★★★★/5 stars