OU alumni share stories of working with state government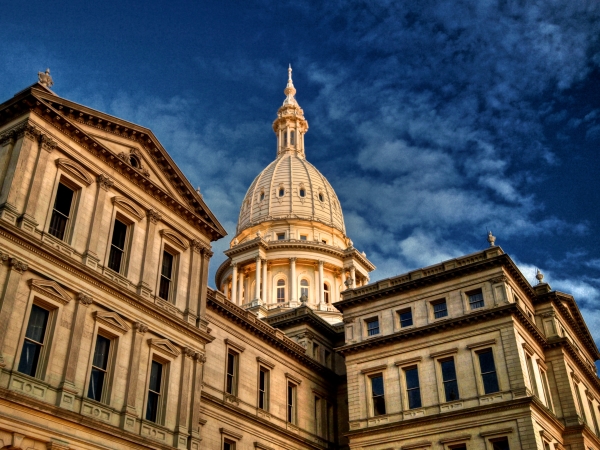 Oakland University alumni working for the Michigan state government visited OU to share their personal experiences in politics and current job responsibilities during a panel and Q&A on Oct. 18 in the Oakland Center Habitat.
Attendees were welcomed to the event with introductions from the three alumni. Each panelist explained how their collegiate education prepared them for their current positions.
After earning her bachelor's degree in journalism at OU in 1994, panelist Melanie Brown decided to pursue work in state government.  She currently serves as deputy chief of staff to Governor Gretchen Whitmer. 
"I came to OU knowing I wanted to go into politics," Brown said. "Even though I didn't want to be the 'name on the door,' I love being a part of the army of people that supports a politician whose values align with my own."
Conversely, panelist Shaquila Meyers had never considered a career in politics during her undergraduate years. She graduated from OU with a bachelor's in health science — however, she soon realized the healthcare field was not the right fit for her.
Meyers returned back to OU to earn her master's degree in public administration. She spent an extensive period of time gaining experience in policy before becoming senior advisor to Whitmer in 2022. 
"I decided to work in politics on the macro level because I wanted to make a big impact," Meyers said. "I had no plans on staying at first, but I found that I truly loved working in the field of public policy."
The youngest alumni panelist was Johnathan Wertheimer, a 2019 graduate. Wertheimer currently works as the policy director/chief of staff for State Representative Brenda Carter.
"I became extremely interested in politics after taking a class on Michigan Politics and Policy during my undergrad," Wertheimer said. "The class allowed me to understand how Michigan's state government works, which was extremely fascinating."
After explaining how they got involved in state politics, the panelists spoke about their current responsibilities. One big topic discussed was how their offices dealt with the pandemic.
Wertheimer acknowledged that the pandemic was a difficult time for everyone, as the lack of face-to-face interaction caused staff relationships to suffer. However, he explained that he and his colleagues were able to adapt to the challenges and move forward together.
"Due to the pandemic, we are now more aware of the technology we have in front of us," Wertheimer said. "It is interesting to see how we adapted and used resources to our advantage during this difficult time."
Audience members were given the opportunity to ask the panelists questions. One attendee asked panelists what they would say to students who feel discouraged politically.
Brown spoke passionately about this topic, assuring the room that each and every vote matters. She explained that voting and advocacy are powerful tools that allow our voices to be heard.
"We cannot build the communities we want, the jobs we want or the lives we want without everyone's participation," Brown said.
As the panel concluded, the event moderator reminded the audience that Michigan's final gubernatorial debate between Whitmer and Republican Party nominee Tudor Dixon will be held on Oct. 25 at OU, closed to the public. Additionally, students are encouraged to be on the lookout in the spring for information regarding OU Day at the Capitol, an event that will allow OU students to visit Michigan's Capitol building.