Venice Film Festival fashion review
While the Venice Film Festival, which ran from September 1st to 11th, is known to be a prestigious event to launch some of the most anticipated films of the year, it also makes a major splash in the fashion world, with celebrities delivering iconic moments on the red carpet. 
The festival has long been one of my favorite events of the year, as I love to watch decked out celebs climb off their little boats in the Venice canals. When I found out Harry Styles would be making his boating debut, I could not look away — so we'll start there.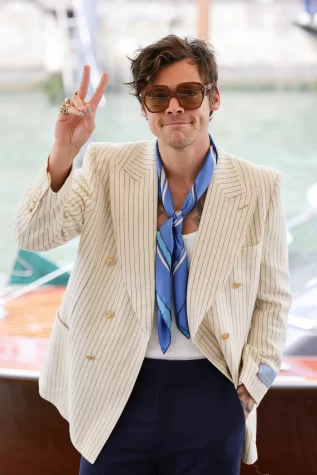 Styles was in Venice for the premiere of Olivia Wilde's Don't Worry Darling and provided the internet with two iconic looks to discuss — one for the morning press conference and one for the star-studded red carpet.
Styles stylishly stepped onto the docks in an appropriately nautical inspired look from his upcoming collaboration with Gucci's creative director Alessandro Michele, cleverly entitled Gucci HA HA HA. 
His retro inspired, pin striped jacket and neck scarf combined with his Elton John-esque oversized sunglasses and fistful of gold rings created an air of coastal grandma chic mixed with 1970's rock star, which felt perfectly in tune with the floating city.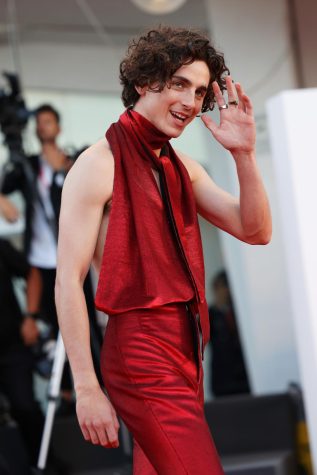 Styles kept that same retro feel on the red carpet later that night, wearing a sharply tailored, blue Gucci suit with a pointy oversized collar — once again pairing the look with a quirky pair of sunglasses.
It feels almost like a natural segue to start talking about Timothée Chalamet next, given that he and Styles are often looked at as the standouts of popular boundary pushing men in the fashion world — so let's dive into his look next.
Chalamet stepped onto the carpet to promote his new film Bones and All — his second film with director Luca Guadagnino of Call Me by Your Name success — wearing a custom design by another frequent collaborator of his, Haider Ackermann.
His shiny red ensemble was completely backless, with his halter top draping around his neck like some sort of scarf. It worked.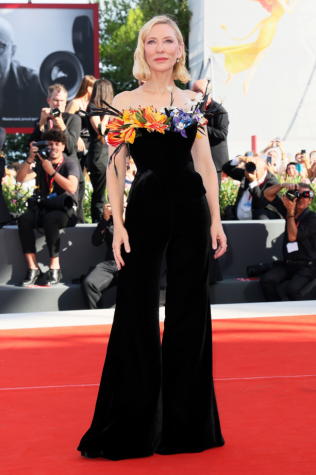 The next fashion moment that I feel stole the show — and actually, the first look I saw from the entire festival — came from Cate Blanchett at the premiere of her new film Tár. 
She wore a black velvet Schiaparelli jumpsuit with a corset top which featured hand painted, colorful flowers shooting out of the neckline, with her ensemble acting as the vase.
Blanchett ended up winning the Volpi Cup for Best Actress for her role in the film, and I think she should also take home the award for best dressed. 
These red carpet moments definitely make me more excited to watch the actual films that premiered at the festival — after all, these celebs were actually there for a reason beyond sartorial bliss.