Positive Space: Justice Johnson
What do you want to be when you grow up? This issue's Positive Space artist, Justice Johnson, said he grew up wanting to be a cartoonist for Cartoon Network. What started out as a fascination for cartoons later blossomed into a narrative about self-expression and personal growth.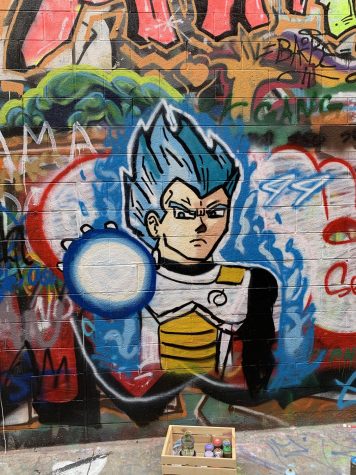 Johnson is a self taught multi-media artist entering his final semester at Oakland studying communications and digital media production. Outside of school, he spray paints animated characters—both original and from pop culture—in Ann Arbor at Graffiti Alley.
Although I originally reached out to Justice to chat about his graffiti, I had the pleasure of learning he also does photography, makes digital art and paints with acrylic and oil paints — oil being his primary medium behind spray paint.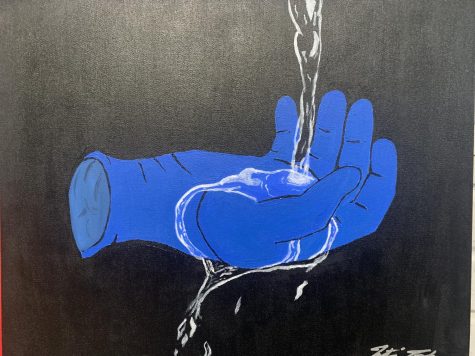 During the summer of 2020, Johnson began honing in on growing his painting skills in the heat of Black Lives Matter rallies.
"I just kept painting over and over again," Johnson said.
At the end of that summer, Johnson's "Trying to Grab Water" got accepted into the "Quo Vadis, Where do we go from here?" exhibition — a curation of works that reflect artists' responses to the turbulent social and political climate of that past summer — at the Van Der Plas Gallery in New York City.
For Johnson, it was "Trying to Grab Water" that kindled the fire for taking painting more seriously and the creation of more mental health pieces — that is, rather than mindless galaxy commissions. When it comes to the pieces themselves, there is no one story they follow in particular.
"A lot of it is bringing the feelings that I have into visual concepts that other people can understand — either through the stories that are associated with the piece or just through the paintings themselves," Johnson said.
Johnson admits that being committed to creating art isn't easy — how finding motivation or your creative flow won't always come so easily, how creating in the age of short form content challenges artists to choose between growing an audience and staying true to your work or how it almost seems like the whole world thinks you have to be depressed to make good art.
Despite the hardships he must endure, Johnson said what makes it all worthwhile is being able to witness complete strangers who happen to pass by experience his work.
"To see [reactions from by-passers] from afar without them knowing this is my work and them just get[ting] so happy about it, that's probably one of the most rewarding things," Johnson said in a personal anecdote.
Johnson explained that he used to strictly paint using acrylics, but spray painting taught him artistic decisiveness and oil paint taught him patience. In short, different mediums teach you different things, so learn and adapt in order to grow your skill set.
"If you have a medium that you like, use different mediums," Johnson said. "You learn so much from different mediums, and you can apply them to the new medium that you use."
You can see Johnson's work right here on campus at the 88.3 WXOU Radio Station, where he painted a mural inside the live station. He can also be found on Instagram at @justicetries.