A deeper look at OU's integrative studies major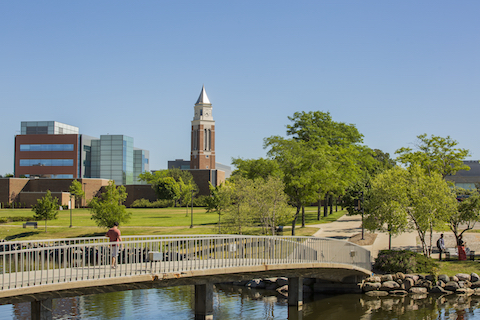 Oakland University's bachelor of integrative studies (BIS) program is propelling students to live with a vision. The major allows students to build their degree from scratch while fortifying their knowledge of interdisciplinary work and research.
Students begin their customizable plan of study by taking an introduction to interdisciplinary studies course and then finish their degree with an interdisciplinary research capstone. 
"They're kind of like bookend classes," BIS special lecturer Lindsay Zeig said. "The idea is that if our students can understand the concepts earlier on, they'll get more out of their classes because they'll start to see things through that interdisciplinary lens." 
Zeig has taught with the BIS department for nearly a decade and has advocated for the addition of an introductory class to the program for much of that time. The course was added to the major in 2021 and aims to give students a footing as they work to integrate their passions and talents.
"In the introductory class, they're going to learn about the three categories of disciplines and then the actual disciplines that are in there," Zeig said. "They'll also start to look at their plan of study and start to make those connections of how these classes all fit together to make them uniquely qualified for the direction that they're headed."
Zeig notes that new students will also spend time studying interdisciplinary scholars and their backgrounds. The goal is to provide budding professionals with an appreciation for the published research that is utilized with the integration of academic disciplines.
For seniors, the integrative research capstone provides a culmination of each student's experience with the interdisciplinary process. The course is divided into three separate sections and focuses on research writing, career development and service learning.
The first component of the class requires students to write an interdisciplinary research paper that seeks a resolution to a social issue through the combination of two disciplines. 
"This is really a chance to dig deep into an issue that a student chooses," Zeig said. "They choose something that they're interested in and passionate about, then research that from two perspectives so that they can learn more about the problem and see what people are writing and saying about it."
The capstone's career development component helps to transition students from a university setting into a professional career environment. Projects in this section of the class include the creation of an online portfolio and a 60-second elevator pitch to prospective employers.
The third component of the course involves students in a real-world application of their research through 20 hours of targeted service in their communities. 
"The service-learning piece is my favorite part –– it's such a cool opportunity," Zeig said. "This really gives [students] a chance to see their research topic in real life. They get to see what it's really like; it brings up new questions and just helps them to have a deeper connection with it."
The COVID-19 pandemic has prevented the BIS program from offering the service portion of the capstone since 2020, but the department is looking forward to adding it back to the curriculum later this year.
"It's things that I cannot replicate in the classroom," Zeig said. "I usually will organize a class project as well because there's just something different about us working together, getting our hands dirty together. We're there pounding nails in and weeding or planting things, and stuff from the class just comes up in a much more organic way."
The BIS program counted 54 graduates, ranging from age 19 to 59-years-old at OU's 2022 winter commencement.
"It really struck me – the impact that this program has on the community as a whole, and how it works for students at all different points in their lives with all different career goals," Zeig said. "If we don't offer an exact major for a student, we can create that for them. We can accept transfer credits so that those students don't find themselves behind. We can help to prepare students for graduate school. It's the program that makes people's dreams come true."