Meadow Brook Ball returns with Glitter and Gold
After a two-year gap caused by the pandemic, the Meadow Brook Ball has finally returned to Oakland University. This year's ball took place on April 8 in the Meadow Brook Mansion at 8:00 p.m., offering dancing and entertainment for all who attended.
The theme of the ball was Glitter and Gold, highlighting the essence of the Golden Grizzlies. Tickets went on sale in February at the Office of Student Involvement ticket window for current students and 2020 graduates who were unable to attend the annual dance due to the pandemic.
The Meadow Brook Ball has been an ongoing tradition at OU since 1974, giving students the opportunity to dress up and enjoy a night full of dancing and activities while exploring the Meadow Brook mansion.
This year's ball —sponsored by Student Activities Funding Board, the School of Education and Human Services and Haig's of Rochester — offered various activities and forms of entertainment to engage with all students in attendance.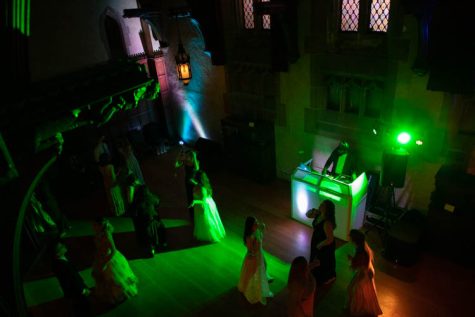 A tarot card reader was present to give attendees a sneak peek into their future, a harp player was in the beverage room to play for guests, as well as several photo opportunities like a mirror photo booth and an "animated" photo booth that turns your pictures into a flipbook.
Attendees were also free to participate in self-guided tours across the mansion with tour guides posted in specific locations to offer information on the historic site. A caricature artist was present and students were able to take home a drawing on a coaster. For students looking for more relaxed activities, playing cards and coloring were offered in the game room.
While dressing to fit the theme was not a requirement, the Meadow Brook Ball committee announced a surprise "best dressed" contest to attendees with the most fitting attire. There were also giveaway prizes, open to attendees who remained at the mansion until the ball concluded, provided by Bakehouse 46, Nothing Bundt Cakes, Emagine Theaters and Classic Lanes. As the night came to an end, students were offered goody bags as a "thank you" for attending.
Abigail Walsh, president of the Meadow Brook Ball Committee, noted her excitement to see the student body together again coming out of the pandemic. She stated that, while it's been a long time since OU student organizations have been able to host some of the most favored events, this year's ball was a really special way to return to the tradition.
Guadalupe Avalos, vice president of the Meadow Brook Ball Committee, reflected on her excitement for the ball, stating that she was looking forward to seeing the committee's hard work pay off and attending her first Meadow Brook Ball event.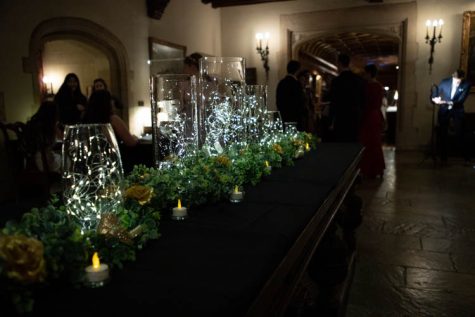 "I'm super excited because this is the main thing I'm involved in on-campus, especially as a freshman, I've obviously never done anything," Avalos said. "I want to see something that I've worked really hard on [get] accomplished. I know there's going to be a few bumps along the road, but I just wanna see that experience and then, obviously, get dressed up and take pictures. I bought a really cute dress and I'm super excited."
While this year's ball is over, the Meadow Brook Ball Committee is looking for new members to join the organization for planning next year's event. Walsh states that she has enjoyed her time working for the committee and encourages students with an interest in event planning to take advantage of the opportunity.
Any interested students can visit the organization's GrizzOrgs page and request to join. Students can also visit the committee's Instagram page to learn more about future events and ticket giveaways.