Sigma Xi hosts annual banquet, lecture with David Good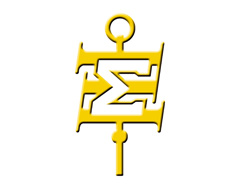 Oakland University's chapter of Sigma Xi, the national scientific research honor society, hosted their annual lecture and banquet last Thursday, April 7 to present and celebrate scientific research conducted at OU. The lecture and student presentations were open to all of the campus community while the night concluded with the organization's banquet and induction ceremony for existing and incoming members.
This year's activities prior to the night's banquet ceremony consisted of a poster session, sponsored by the Center for Biomedical Research, where students presented their research through posters and were able to discuss their findings with other campus community members, along with a presentation from keynote speaker David Good.
Executive Vice President for Academic Affairs and Provost, Britt Rios-Ellis, Ph.D., was inducted as an honorary member at this year's banquet along with roughly 30 students and 5 additional faculty members.
Gerard Madlambayan, Ph.D., vice president of Sigma Xi and associate professor of Biological Sciences, and Sarah Hosch, Ph.D., president of Sigma Xi and chief faculty adviser for undergraduate Biology, state that Rios-Ellis' induction demonstrates OU's support of research activities as part of the educational experience. As a newly appointed provost who began in 2021, her induction will continue the message of supporting research throughout her time at OU.
Sigma Xi exists at a national level to enhance the health of the research enterprise, foster integrity in science and engineering and promote the public's understanding of science for the purpose of improving the human condition as stated on the organization's website.
OU's chapter upholds these missions by supporting undergraduate and graduate research opportunities through events that bring in researchers and lecturers to give presentations on their work, sending selected students to conferences including the annual Sigma Xi national conference, and providing students with the opportunity to present their research at this conference through posters or an oral presentation.
The lecture and banquet's keynote presentation, given by David Good, Biologist and founder of The Good Project, touched on topics that resonate with various fields such as anthropology, exploration and biological research. Good also discussed his current microbiome research, understanding the link between the microbes that live in and on us and human health, as well as his personal journey working with the Yanomami people.
"One thing we recognize is that our western lifestyle, with the processed foods that we eat, sedentary lifestyle, use of antibiotics, industrial toxins and pollutants, we have lost a huge part of what we call our ancestral microbiome," Good said.
"That greatly reduced biodiversity and functional diversity of the microbes is linked to a lot of chronic inflammatory diseases that afflict mostly in western industrial societies. That's diabetes, obesity, crohn's disease, all these chronic inflammatory conditions that afflict us here at epidemic proportions and we're getting sicker. When you look at the Yanomami, they don't have all these diseases of the western industrial society. My investigation looks into the biological makeup of the Yanomami microbiome and its link to Yanomami diet and lifestyles and perhaps they have something that we've lost."
Good, a Yanomami-Venezuelan-American, states that, through his presentation, he hopes attendees are able to understand who the Yanomami people are and their importance as ancestral natives of the Amazon rainforest as well as the importance of understanding the composition of their microbiome.
"While anyone can Google the Yanomami and learn that, what I hope through my experience and my presentation, telling that through my eyes as a brother, as a son, as an uncle, as a nephew, I want to show the world the Yanomami through this familial connection so they feel that they're not just looking at them as the other but also as inhabitants of the same planet and as part of the community," Good said.