Beta Gamma Sigma celebrates another year by inducting high-achieving business students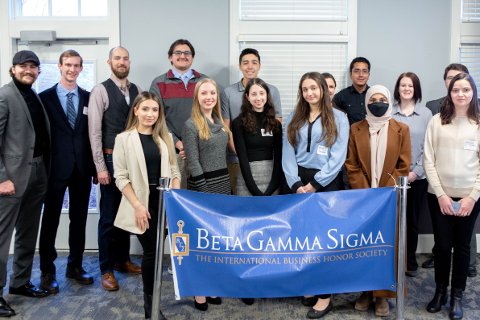 Rachel Yim, Science & Technology Reporter
March 28, 2022
The Beta Gamma Sigma (BGS) chapter at Oakland University welcomed 28 new members for the third year in a row, bringing the total membership to 85.
Initially founded in 1913, BGS is an international business honor society for colleges accredited by the Association to Advance Collegiate Schools of Business (AACSB), which represents the top 5% of business school programs in 190 countries and all 50 U.S. states.
OU chapter of BGS, despite its inactive membership since its establishment, was revamped by its current advisor Meaghan Cole to connect with high achieving business students that attend OU in fall 2020. With Cole's effort of reaching out to high-achieving business students, BGS started to serve its members with community service and educational opportunities as well as providing them with career benefits for post-graduation.
As an invitation-only honor society, BGS requires students to meet their selection criteria to become a member. A student must major in one of the School of Business's programs, have a cumulative GPA of 3.5, and be in the top ten percent for undergraduate students or top twenty percent for graduate students at an AACSB accredited business school.
During the winter semester, Cole identifies students who meet these criteria and invites them to join the society. Once they accept their invitation, they are invited to the annual induction ceremony.
"It is an honor to welcome these top students to the Oakland University BGS Chapter," Cole said.
According to Cole and president of marketing for BGS Alexis Harp, OU BGS plans on holding three categories of events each semester for its members: service, career and engagement.
"Some examples of service events we have held are giving back to our local community at food pantries and thrift stores like Oakland Hope and Lighthouse," Harp said. "For career events, we were able to partner with the BGS Detroit Alumni Chapter this semester where they brought in a business professional to talk about salary expectations and negotiations. We have also had workshops on dealing with difficult people in the workplace where we examined case studies and discussed them as a group. As for engagement we hold labeling events where we give out free items or even food, we have hosted ice cream socials, and graduation celebrations as well."
Earlier in the fall 2021 semester, OU BGS became one of 36 international BGS chapters to be recognized as the "Highest Honors Chapter" by the Chapter Honor Roll program run by the BGS global headquarters. Recognitions are given to active college chapters that engage their members and guide them to utilize all the resources BGS has to offer.
"I think this is amazing considering we had only just rebooted our chapter a year prior to that," Harp said."
"Highest Honors," "High Honors," and "Honors" are the three degrees of honor. Members of chapters that receive the recognition of these honors are eligible to be nominated for society-wide awards.
"Starting from not inducting anyone to inducing 38 people in 2021, and now to be selected as the Highest Honors Chapter is just really amazing, and I'm very proud of each and every member of our BGS," Cole said.
For more information about BGS and its events, visit its website or email the BGS advisor Meaghan Cole at [email protected].