OU's Ukrainian community ask administration for financial assistance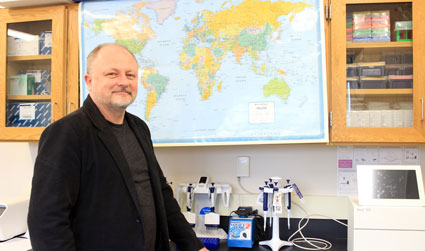 As the war between Russia and Ukraine rages on, the Ukrainian students and faculty of Oakland University have been pleading with OU's administration for financial assistance. 
Due to the extension of visas for Ukrainian nationals by the Biden administration, Ukrainian students are now extending their stays in the United States as it is unsafe for them to go back to their home country. 
"I've been asking the administration to let them take classes and drop tuition so they can use their time here to grow intellectually," Professor of Biology Taras Oleksyk said. "[It would] really not cost the university anything at all — just let them stay in classes and then we, as a community, will take care of their living space."
Currently, the university has nine Ukrainian students, but Oleksyk specifies that only four of the nine students are in need of a tuition waiver. 
One of these students is Zlata Bilanin. Bilanin is here through the American Semester Abroad Program. Under the guidelines of this program, Bilanin is unable to apply for traditional methods of financial aid and can only work up to 20 hours per week at an on-campus job.  
"As an F-1 student, I cannot work [full-time] to cover my tuition by myself, so there is no way for me to cover my tuition," Bilanin said. "The only chance [for] the tuition to be covered so I can just continue my studying is [for the] university to actually help me." 
It is the hope of students like Bilanin that OU will extend their goodwill and allow these students to continue studying, which would be of little cost to the university. 
"That would mean a lot because then I would be able to continue my education. My parents are currently [in] the state where the war is happening, so I'm supposed to help them — not another way [around]," Bilanin said. 
Bilanin believes that the university's response to this crisis will be a good indicator of its degree of care for the plight of its international students.
"[It would show] that the university cares about helping people that are in need. As Ukrainian students — we are in a situation where we cannot continue our education in our homeland," Bilanin said. "What OU will do with that [situation] as an institution gives indication to students and how [the] university [cares for] their students in that way."
If OU refuses to waive tuition or provide additional support, students like Bilanin will either be forced to return to their country in unsafe conditions or attempt to gain access to other programs abroad. 
"As I don't have any opportunity to cover the tuition by myself, I would need to [return] back to Ukraine," Bilanin said. "[Or] find other opportunities abroad, but I need to plan my education and I'm in a position [where] I need to plan right now [because] my country is being invaded." 
So far, the university has not yet come to a decision on how to best support its Ukrainian students. According to Brian Bierley, director of media relations, Provost Britt Rios-Ellis said that the leadership team is considering many options, but these options are still just conversations at this point in time. 
"I know sometimes these things take a long time when it's run as business as usual, but I would like to point out that this is not business as usual," Professor Oleksyk said. "I think that we need to think about what we can do now or we will regret not making these decisions earlier."